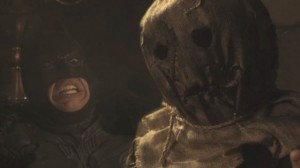 Yeah, I know it's from a College Humor video, but remember that scene in Batman Begins where Scarecrow throws that powder in Batman's face? He freaks out and starts rolling around, but he also starts seeing really bad memories and we see them right with him. We don't actually flashback to those things, but we go INTO HIS HEAD to see them in flashes.
Let's talk about the difference between FLASHBACK and FLASH. Traditional flashback plays out over a longer period of time. Put the lead-in in the slugline: INT. JIMMY'S ROOM- DAY (FLASHBACK). Be sure to tell the reader when it's over with END FLASHBACK. A standard flashback might last a full scene, or even a sequence of scenes, as in Ray.
FLASH is shorter than a traditional flashback. We go into the character's head for a rapid-fire glimpse of a past moment or moments. They play out in a character's mind and we see it with them.
Here a couple of examples, the first from The Incredible Hulk:
EXT. PLATEAU OF THE GLACIER — DAY
The man has been walking a long time. He stops and looks around.
Ice. Mountains behind. The green-black of the sea out in front.
Not a human sign, no life at all. Except…
AN ARCTIC FOX, buried almost invisible, watching.
The man looks up at THE AURORA BOREALIS – eerie dancing sheets of
green and purple flowing across the sky.
Tighter on THE MAN'S FACE: looking up…hollowed out, haunted.
MEMORY FLASH:
A banshee shriek of sound. An image streaked liked a camera moved
on a slow shutter. A WOMAN'S BODY on the ground, FLAMES…but we
probably can't make it out.
EXT. GLACIER — DAY
THE MAN'S EYES: wide open. Anguish.
We're on the plateau, into the man's mind, and then back out on the plateau. The "MEMORY FLASH" lasts seconds. This is not a traditional FLASHBACK, and shouldn't be treated so, format-wise. Here's another, same movie:
Timecut: BANNER MEDITATING: in the lotus position, unmoving
PULSE: 55 – THE SOUND OF A SLOW HEARTBEAT that RISES and SPEEDS UP
MEMORY IMAGES: his mind wandering, happy memories leading to bad.
– BETTY ROSS at a LAB TABLE looking up at us, smiling
– BETTY and BRUCE sitting on a CAMPUS LAWN in late afternoon light
with pizza; she gives him a bite and kisses him
– JARRING SOUND and SURREAL IMAGE: FLAMES; a POV from 10 FEET
HIGH, looking down at BODIES on the floor beneath CRUSHED AND
BROKEN LAB EQUIPMENT. One of them is BETTY, a GASH in her head
-GEN ROSS looking right at us, hand on our shoulder consoling;
lips move but no sound comes out; intense
-our POV: looking out a CURTAINED WINDOW down on a FRONT DOOR.
Two MILITARY POLICE, knocking. We JERK AWAY from the window.
EYES: SNAP OPEN PULSE: 89…90
He sighs and breathes deeply. He can't clear his mind tonight.
Banner in "lotus position," then the "MEMORY IMAGES," then back to Banner, eyes snapping open. Always seek the visual solution, visual storytelling over verbal exposition.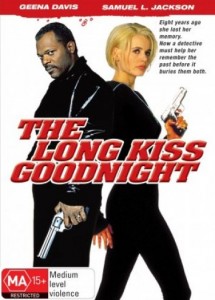 My personal preference is to use FLASH for this device, but there are several I've seen in use, for instance here, from Shane Black, The Long Kiss Goodnight:
UNDERWATER — Sam THRASHES and jerks, to and fro. Dead Nathan, mocking her. There, under the water, the memories come… In a flood. Stark and vivid.
MEMORY FLASH – THE YEAR
THE TRUNK OF A CAR opens, revealing a patch of night sky.
Mostly obscured by two familiar individuals —
There's ONE-EYED JACK, remember him? Few years younger. One eyeball heavier. The other man is TIMOTHY. He looks in the
trunk. Nods.
TIMOTHY
Okay, I'll signal Daedalus. Your money will be waiting, and Jack…? Do yourself a favor, do her and dump her, I'm serious. Don't get cute, try to play doctor first. I made that mistake.
The lid SLAMS SHUT.
BACK UNDER THE WATER
The world of rushing MADNESS, memories unspooling now, faster and faster —
MEMORY FLASH: A CLIFF overlooking the ocean. Darkness.
Sheeting rain. Our heroine, for it is unquestionably SAMANTHA,
lying unconscious atop a rocky bluff. Drenched.
Dialogue can go into a FLASH. Notice how we stick with the present scene, even in the flashes, by use of Voice Over in The Fugitive:
DETECTIVE ROSETTI (V.O.)
Do you own a gun, Dr. Kimble?
KIMBLE
Yes.
DETECTIVE ROSETTI (V.O.)
What kind of gun?
KIMBLE
A .38 Smith.
FLASH – FORENSICS TECHNICIAN DUSTS CRYSTAL LAMP
DETECTIVE KELLY
Did you have your key with you tonight, Dr. Kimble?
BACK TO SCENE
PHONE RINGS. Rosetti answers it. Kimble watches him write something down, he slides it to Kelly.
FLASH – MEASURE "NECKLACE" OF BRUISES ON HELEN'S NECK
DETECTIVE KELLY (V.O.)
Your wife was loaded wasn't she? I mean, she was worth quite a bit of money.
Kimble looks up at the two cops. For the first time he seems to sense something aggressive in their questioning. They no longer seem on the same team.
When you come out of the FLASH, go BACK TO SCENE, which brings you back to the present moment scene. Ok?