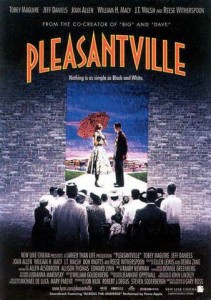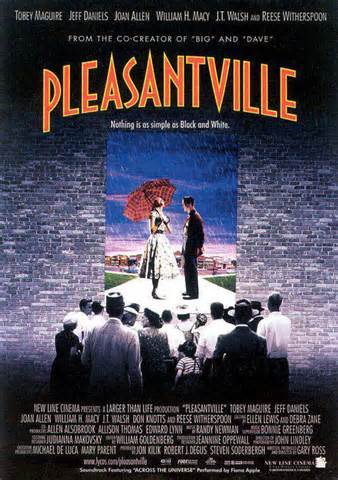 Bet that title got your attention…beats freakin' Plot Points!
Today we're gonna continue our script/clips series for Great Scenes with, YES!, the scene where mom (Joan Allen) masturbates for the first time. I'll show the script here and you can go down to the YouTube video below (and thanks to Cyrille from France for preserving it). Scene de la baignoire, indeed!
Some of these scenes I've been highlighting are vastly different from the finished movie. Not here. This is pretty much as is for what became the movie. Interesting though, seeing how it's laid out on the page by writer Gary Ross. Let's check it out…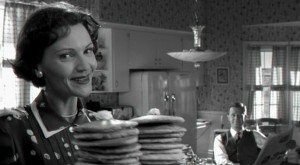 Before this, Joan Allen has been the Leave It To Beaver Mom. Eisenhower-era, pancakes and sausage links every morning, drink and dinner waiting for hubby, and most definitely the twins beds at night. There is not only no fornication in Pleasantville, there isn't even the concept of it. The thought never comes into the mind, until slutty Reese Witherspoon shows up from the present and plants the notion in Mom's mind. Sex? What's sex?
INT. PARKER BEDROOM. NIGHT.
George crosses from the dresser to the TWO TWIN BEDS in the
middle of the room. He wears long sleeve pajamas that are
buttoned up to the neck. George puts his glass of warm milk
on the nightstand and climbs in his own single bed. It is
barely wide enough for his body and takes some maneuvering.
GEORGE
Sweetie? You coming to bed?
There is no answer.
GEORGE (CONT)
Betty?
INT. BATHROOM.
She stands in her bathrobe staring down at the tub. Her
dressing gown is buttoned to the neck as well.
BETTY
(calling out)
Yeah … I'm just going to take a bath
first.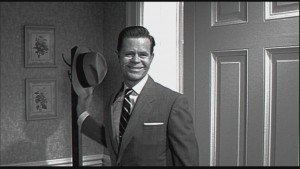 Between his virginal wife here as George Parker, or being married to Nina Hartley in Boogie Nights, the classic Little Bill New Year's Eve suicide–William H. Macy has had a couple classic sex scenes in the movies–even if it's his wife getting the action in both. He's clueless here that this is a bath like no bath that his wife ever took before, a bath that's gonna literally set this world aflame in Technicolor.
CLOSER. BETTY.
She swallows once as she stares down at the tub–then reaches
for the spigot and turns on the water. Betty's heart beats a
little faster as she HEARS the WATER THUNDERING DOWN.
CLOSER STILL …
Betty reaches up and unties the little silk ribbon at the top
of her robe. She slips it off, and lets it drop to the floor,
standing naked in the middle of the bathroom. Betty glances
toward the mirror and then quickly glances away. She takes a
deep breath and steps into the tub.
EVEN TIGHTER. ON HER FACE …
Betty slides down into the warm water, breathing in the
steam, and closing her eyes for a moment. She lingers like
that for a second or two, before settling a little lower in
the tub. Betty opens her eyes, but they only half open. There
is the slight trace of a smile.
EXTREME CLOSE UP BETTY'S FACE.
Her eyes close again as she bites her lower lip gently. The
water continues to THUNDER DOWN as she arches her back.
Betty's breathing seems to quicken as she opens her eyes all
over again: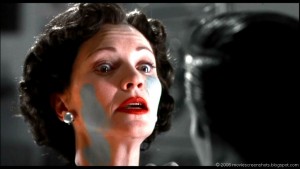 Would I recommend you NOT write in camera direction like this? If you're new to screenwriting, with no agent, not directing the movie and haven't raised the funds to show it–do NOT write in camera angles like this. Writer Gary Ross did direct this, so he was seeing it clearly long before he shot it. As usual, the answer on writing in camera angles is–it depends.
Back to the script…things starting to get interesting in that bathroom!
Here is where the whole world shifts, the first orgasm in Pleasantville!
HER POV. BATHROOM …
ALL AT ONCE, EVERYTHING AROUND STARTS TO TURN FROM BLACK AND
WHITE TO COLOR. A BIRD OUT THE WINDOW BECOMES A RED BREASTED
ROBIN. THE TILE ON THE TUB TURNS OUT TO BE PURPLE. GREEN
TOWEL … PINK ROBE … BRIGHT YELLOW DAISIES ON THE PLASTIC
SHOWER CURTAIN.
CLOSE UP. BETTY'S FACE.
She stares in amazment. Beads of sweat form on Betty's
forehead as the world goes to TECHNICOLOR. The THUNDERING
WATER POUNDS IN THE BACKGROUND, but beneath can be heard the
beginnings of a faint, low, MOAN. Her eyes dart around the
room. Her breathing quickens: Faster … Harder … More
intense … THEN SUDDENLY …
EXT. ELM STREET. NIGHT.
The HUGE ELM TREE across the street suddenly BURSTS INTO
FLAMES. Fire shoots straight up into the sky as billowing
clouds of black smoke fill the air. BRIGHT ORANGE FLAMES
LIGHT UP THE NIGHT.
Ever remember another movie image like that?
Kinda puts the small stuff in perspective–any objections to his CAPPING OBJECTS, his SPECIFYING CLOSE UPS, etc–kinda go away in comparison to the concept–a black and white TV world, pure Americana, infiltrated by a pair of time traveling, dysfunctional teens, turning the black and white Eisenhower-era into a Huck Finn reading, free-loving and fully "colored" world. Killer premise.
Killer premise/concept/hook & mediocre script…
Killer script & mediocre premise….
Which do you think the producer would want first?
Here's the scene: