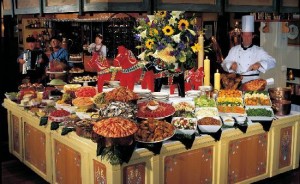 Today we'll offer up a veritable smorgasbord– Part 3 of my recent check of internet screenwriting resources  that come in video form. Hopefully they will be of interest.  And so, without further ado, like they say on ESPN, "let's go to the videotape!"
HARDCORE HENRY- POV SHOTS
"Ever since its showing at the South by Southwest film festival in March, audiences have been raving about the visceral, immersive and downright crazy experience that is Hardcore Henry. Russian director Ilya Naishuller exploits the action POV idea to great effect in telling the story of a man who wakes up a cybernetic super-soldier and quickly stumbles into a world of misadventures. fxguide explores the tech behind Hardcore Henry, from the bespoke head rig mask devised to shoot the POV perspective to the visual effects required to tell the film's over-the-top action."— FXGUIDE.
In case you missed it, here's a really cool story and video of how they made Hardcore Henry, the world's first feature action movie told completely in POV. Crazy look to this flick, check this out:
"Good artists copy, great artists steal." The famous Picasso expression is fully on display in this amazing breakdown by Kirby Ferguson of "appropriation" in multi-art crossovers–meaning some really good stealing going on. There are multiple parts to this breakdown but Kirby assembled them all together here in one 48 minute video. Enjoy!
"1 year = 1 film. "A History of Horror" is a video essay which proposes a timeline of influential and aesthetically beautiful horror movies around the world since 1895 until 2016."–VIMEO
Marveling at the time it took to put this together by Diego Carrera. Thank you, my friend! And so, in a little over 12 minutes, the history of horror!
A History of Horror from Diego Carrera on Vimeo.