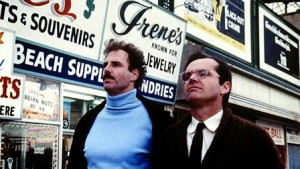 Good Reader, if you've read my previous Great Scenes or Speeches posts you know I have a tendency to pick them from 1990 and before. Apologies… I promise the next version of Great Speeches will have nothing pre-Millennium. Meanwhile, I hope some of these killer monologues enlighten your own screenplay process.
The first one is likely unknown to those of you born post Star Wars, or who didn't deal dice in Atlantic City for Donald Trump in the 80's. Yeah, that would be me and believe me, there's nothing like Atlantic City. And for all the films shot down there, there's no movie like King Of Marvin Gardens. Susan Sarandon applying fresh squeezed lemons while 70 year-old Burt Lancaster stares in ecstasy sounds creepy but it's one of the great scenes ever. But the monologue that opens the movie is a punch in the face from Jack Nicholson. In explaining why he doesn't eat fish he sets up the relationship with his brother (Bruce Dern) that defines the entire movie in a page one, six minute monologue.
Also included are great speeches from Fight Club, Devil's Advocate, and 25th Hour. As usual, when available I'll include the script. Compare it with the film clip to see the changes. Enjoy!
KING OF MARVIN GARDENS: WHY I DON'T EAT FISH
THE DEVIL'S ADVOCATE: GOD'S A SADIST
KEVIN
It is a test, isn't it? The whole
game, you sitting there, keeping
score.
MILTON
No. That's the other guy. I
don't judge anybody. As far as
I'm concerned, everyone's a winner.
God's your prankster, my boy.
Think of it. He gives man
instincts. He gives you this
extraordinary gift and then, I
swear to you — for his own
amusement — his own private,
cosmic gag reel — he sets the
rules in opposition. It's the
goof of all time. Look but don't
touch. Touch but don't taste.
Taste but don't swallow. And
while you're jumping from one foot
to the other he's laughing his
sick fucking ass off! He's a
tight-ass. He's a sadist. He's
an absentee landlord!
(incredulous)
Worship that? Never.
FIGHT CLUB: 8 RULES OF FIGHT CLUB
INT. TAVERN BASEMENT - SAME

     A BOMB-SHELTER.  Concrete walls.  One BARE BULB above, Tyler
     standing directly beneath it.

                             TYLER
                 Welcome to fight club.

     The guys mill around, finding partners.  Everyone brims with
     eagerness, but tries to act cool.  CHATTER gets LOUDER.
     Everyone spreads out, forming a circle, Tyler at center.

                             JACK (V.O.)
                 Every week, Tyler gave the rules that
                 he and I decided.

     PEAKING CHATTER, till Tyler raises his arms and the CHATTER
     DIES.  A couple of COUGHS, FEET SHUFFLING, then, SILENCE.

                             TYLER
                 The first rule of fight club is --
                 you don't talk about fight club.  The
                 second rule of fight club is -- you
                 don't talk about fight club.  The
                 third rule of fight club is -- when
                 someone says "stop" or goes limp, the
                 fight is over.  Fourth rule is --
                 only two guys to a fight.  Fifth
                 rule -- one fight at a time.  Sixth
                 rule -- no shirts, no shoes.  Seventh
                 rule -- fights go on as long as they
                 have to.  And the eighth and final
                 rule -- if this is your first night
                 at fight club, you have to fight.