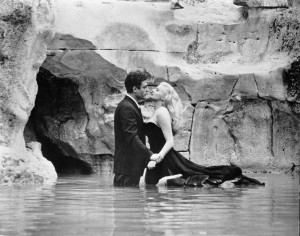 Time once again for Great Scenes! This, V 3.0. As per the last two mixes I attempted to find the script to accompany the scene (this time around, no script on a couple, but just too good to pass up). Where applicable, please compare the script to the clip and notice how the single dimensional action lines take on an entirely grander look once set to the fabulous YouTube screen!
Love how we get right into Woody Allen's head right off the bat, hearing him rewrite his own opening…
"…a series of shots of the New York City skyline. As "Rhapsody in Blue" is heard over the scenery, the images flash on and off: the skyline at dawn, the sun silhouetting the Empire State Building, jutting skyscrapers, parking lots, crowded streets, the Brooklyn Bridge, neon lights advertising Broadway, Coca-Cola, various hotels, the snow-covered and lamp-lit streets of Park Avenue and Central Park, the garment district, an excited demonstration downtown . . .
As the music swells over the Manhattan scenery, Ike's voice is heard, as if reading aloud from his writings.
ike's voice-over "Chapter One. He adored New York City. He idol­ized it all out of proportion." Uh, no, make that: "He—he . . . romanticized it all out of proportion. Now … to him … no matter what the season was, this was still a town that existed in black and white and pulsated to the great tunes of George Gershwin." Ahhh, now let me start this over. "Chapter One. He was too romantic about Manhattan as he was about everything else. He thrived on the hustle . . . bustle of the crowds and the traffic." As Ike continues to talk, more Manhattan scenes are shown: sophisticated women walking down Fifth Avenue; construction men drilling on the streets;
the docks; a ferry moving into port; children running down the steps of a private school, finished for the day. Accenting Ike's words, the images continue to flash: a fish market, presided over by a man in a smudged apron; two elderly women, bundled in winter coats; a fruit stand; high school boys playing basketball in a fenced-off court; joggers in the Park; the Plaza Hotel;
garbage piled up on the streets; building fronts of such landmarks as Gucci and Sotheby Parke Bernet; the Guggenbeim Museum; people, young and old;
trafficked streets; three men loitering on a corner; the crowded lower level of the 59th Street Bridge. The "Rhapsody in Blue" score continues very softly in the background.
ike's voice-over "To him, New York meant beautiful women and street-smart guys who seemed to know all the angles." Nah, no . . . corny, too corny . . . for . . . my taste (Clearing his throat) … I mean, let me try and make it more profound. "Chapter One. He adored New York City. To him, it was a metaphor for the decay of contemporary culture. The same lack of individual integrity to cause so many people to take the easy way out . . . was rapidly turning the town of his dreams in—" No, it's gonna be too preachy. I mean, you know . . . let's face it, I wanna sell some books here. Chapter One. He adored New York City, although to him, it was a metaphor for the decay of contemporary culture. How hard it was to exist in a society desensitized by drugs, loud music, televi­sion, crime, garbage." Too angry. I don't wanna be angry. "Chapter One. He was as … tough and romantic as the city he loved. Behind his black-rimmed glasses was the coiled sexual power of a jungle cat." I love this. "New York was his town. And it always would be."
While Ike finishes bis recitation, "Rhapsody in Blue" loudly fills the screen as the pictures of New York City life continues to appear on and off the screen:
a man and a woman kissing on a balcony; a lighted Broadway; Yankee Stadium at night, its lights illuminating the crowds; two actors performing on the Delacorte Theatre stage; Radio City Music Hall; and ending with a spectacular view of the Manhattan skyline at night, firecrackers flashing over the buildings and dark sky, as the music reaches a crescendo and abruptly stops…"

LA DOLCE VITA: FOUNTAIN SCENE
Two words: Anita Ekberg!
BOOGIE NIGHTS: JESSIE'S GIRL SCENE
Full script & scene are here. Truncated version here, picking it up where Todd pulls out the gun. Never seen not just one but two songs baked into the action like this–Sister Christian and Jessie's Girl. No cutaways, it's a single scene, not a sequence. Don't think anyone gave a shit about the incorrect formatting of written-in camera direction or bold action lines–not when you make a movie like Boogie Nights. Amazing stuff:
Dirk and Rahad continue to haggle about leaving/not leaving. CAMERA BEGINS
A SLOW DOLLY INTO A CU ON TODD.

                                    TODD

                           We're Not Leaving Yet.

Dirk and Reed look at Todd. He stands up.

                                    TODD

                 We're here now and we want something else.

                Hey -- Hey. We Want Something Else From You.

                                   RAHAD

                                   What?

                                    DIRK

                    Todd -- what the hell are you doing?

                                    TODD

                   In the master bedroom, under the bed,

                   in a floor safe . . . You understand?

The Bodyguard turns his head. Dirk and Reed are confused;

                                    DIRK

                  Todd . . . what the fuck, man, c'mon --

                                    TODD

                  Shut up, Dirk. I told you I got a plan.

                             I got a good plan.

                                   RAHAD

                         Are you kiddin' me kittie?

                                    TODD

                    No I'm not. I'm not kidding. We want

                   what's in the safe. We want what's in

                   the safe in the floor under the bed in

                            the master bedroom.

                                    DIRK

                          Todd -- don't be crazy.

                                 (to Rahad)

                 Sir -- we don't know anything about this.

                   This is not the thing that we wanted.

                                    TODD

                          SHUT THE FUCK UP, DIRK.

The BODYGUARD reaches into his coat . . .

. . . Todd pulls his REVOLVER quickly and AIMS at the Bodyguard.

                                    TODD

                         Don't reach for your gun.

. . . Rahad reacts by AIMING HIS GUN AT TODD . . .

                                   RAHAD

                     You don't wanna do this, friendly.

                                    TODD

                        You've only got one bullet.

Rahad PULLS THE TRIGGER . . . a bullet FIRES from the gun and strikes Todd
in the SHOULDER . . . the gun in his hand falls to the floor and he
stumbles back . . .

. . . The Bodyguard takes this moment to GRAB HIS OWN GUN from the holster
and FIRE off shots at Dirk and Reed . . .

. . . Bullets graze past them and they DUCK FOR COVER . . .

. . . The GIRLS in the bedroom SCREAM and SHOUT at the gunfire . . .

. . . A STRAY BULLET HITS the ASIAN KID in the heart, but he doesn't fall .
. .

. . . TODD reaches hold of his gun, crouches for cover and FIRES a bullet
STRAIGHT INTO the Bodyguard . . . who falls back DEAD . . . Todd looks
right and sees:

RAHAD scuttles into the bedroom with the women . . . Todd looks over his
shoulder to Dirk and Reed;

                                    DIRK

                     WHAT THE FUCK ARE YOU DOING, TODD?

                                    TODD

                          He went in the bedroom.

                                    DIRK

                   ARE YOU CRAZY? WHEN DID YOU GO CRAZY?

UNFAITHFULLY YOURS- NOBODY HANDLES HANDEL LIKE YOU HANDLE HANDEL
And again, two words: Preston Sturges!