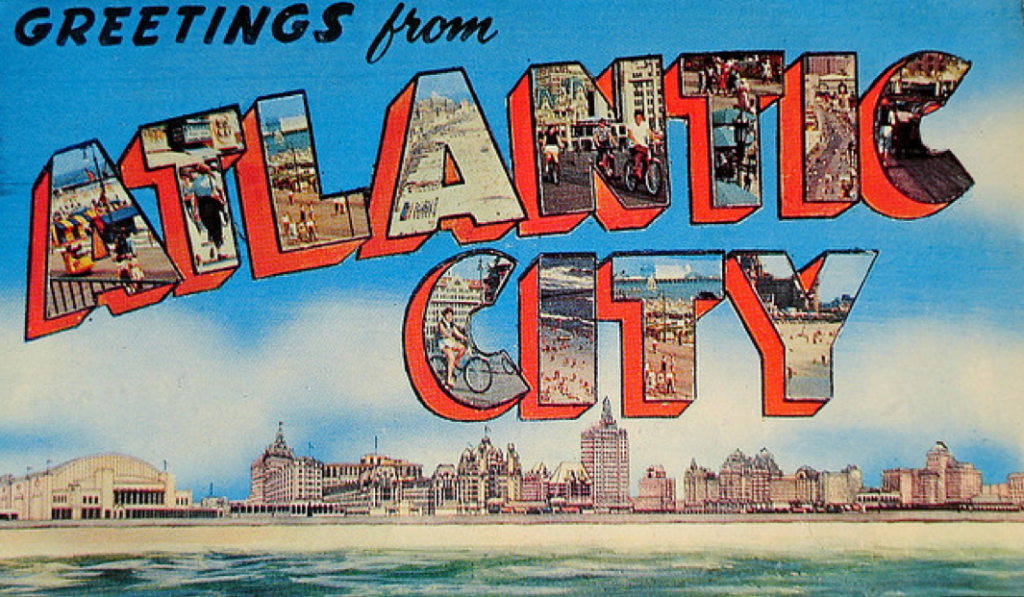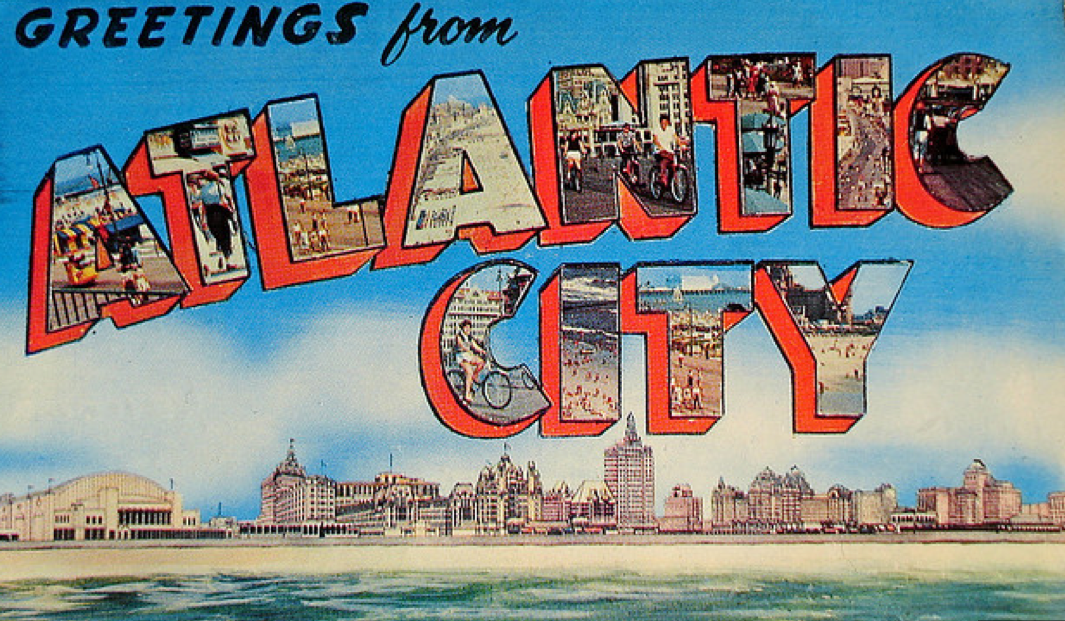 "Nearly four decades ago, herds of buses began thundering down the highway to Atlantic City, where in windowless factories built next to the sea, paper and plastic were extracted from leather wallets. About 32 million people a year spread across the carpeted factory floors.

Today the herds of buses have thinned almost to extinction. It's not that the gamblers have given up, only that they no longer have to roam so far from home to lose their money. Atlantic City is fast falling back into economic tragedy."– Aljazeera.com
May 26, 1978. Resorts International became the first legal casino outside of Nevada. Lines were the stuff of legend, nothing like it had ever been seen in Atlantic City. Heavy-hitting casino big-wigs forced to come down to dispense slot change as wave after wave of people arrived. This human wave went on for years. I know, I was there. I lived in Atlantic City from '83 to '88 and worked at Resorts International. I also worked as a dice dealer for Donald Trump, which is a story for another day, though I will say I once caught a thief trying to past-post a $10,000 dollar bet. Was made Employee of the Month and met both Donald and Ivana. Plastic, man.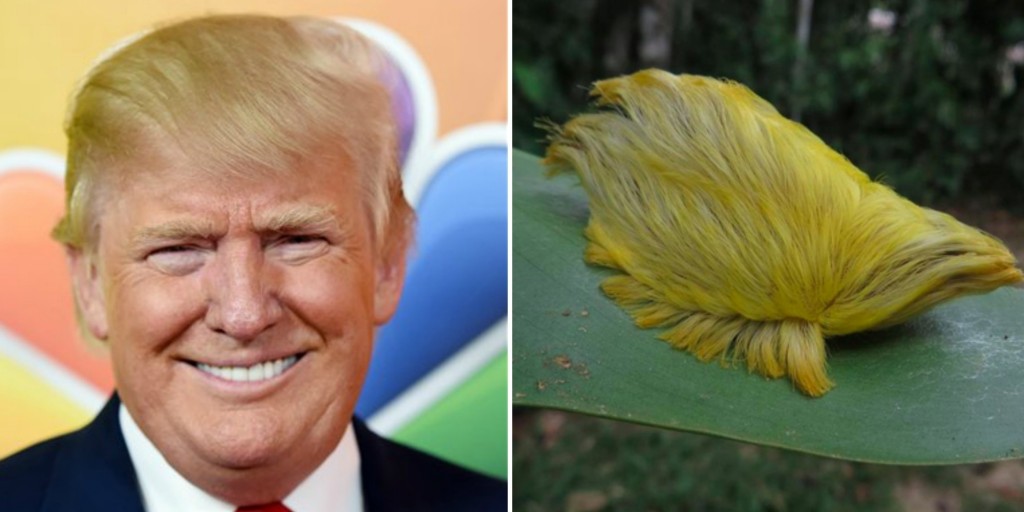 It pains me to see one of the places I call home in distress. Amazing roller-coaster town. 1920's Atlantic City was the Grande Dame. This was the "World's Playground", the real Boardwalk Empire where "Nucky" Johnson rose to power. Prohibition Era saw the gilded age of pleasure palaces lining the shore and tens of millions of beachgoers. It was the Steel Pier with the world famous diving horse and starting in 1929, the Miss America contest at Convention Hall.
After that came decades of disrepair and double-digit unemployment. When Atlantic City hosted the 1964 Democratic National Convention, the level of the city's disrepair was held up to a national spotlight. Something had to be done. Little more than a decade later, the gambling referendum passed. With the tidal wave of states allowing legal gambling now, it easy to forget Atlantic City that was first gambling town after Las Vegas. Pleasure palaces rose again. Alas, only so much money in that pie and being a zero-sum game, it was only a matter of time before Atlantic City once again hit the skids.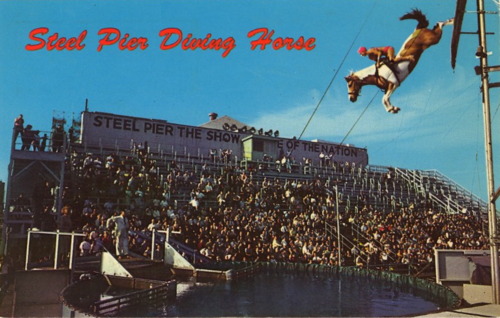 I miss the place so I wanted to dedicate this post– and thanks to the folks who stuck around this long wondering how this gets back to screenwriting– to the movies of Atlantic City. If you look at this Wiki you'll find the movies made in Atlantic City. Well, some of them. I shot Jane Doe here in the late '90's. What's it like knowing you didn't make the list of Atlantic City movies that will be remembered? Like the smallest violin in the world, playing just for me.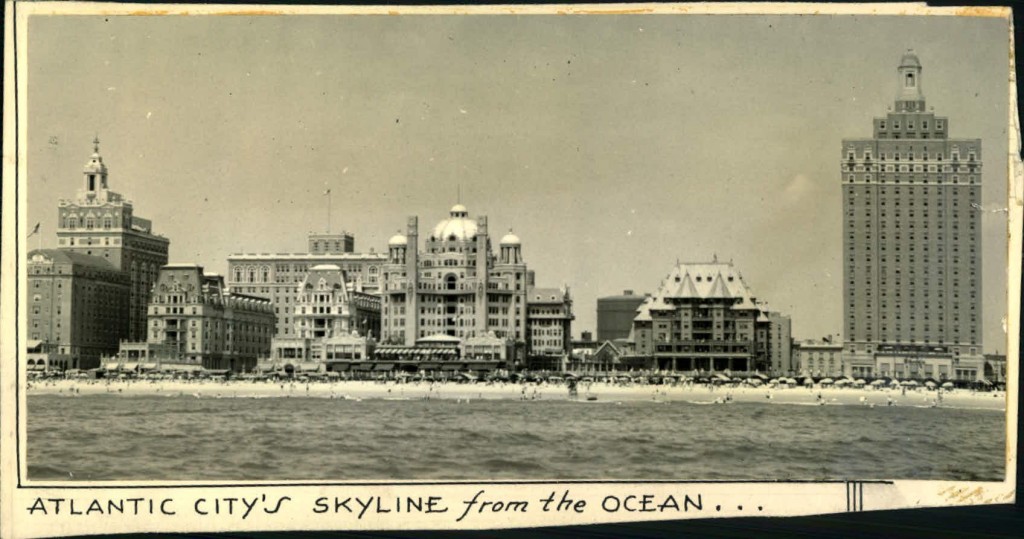 On that list are two movies in my Top 100 All-Time, so let's look at the scripts and see the accompanying movie clip.
Everything you ever wanted to know about this Louis Malle-John Guare collaboration can be found here. It's easy to forget that this 1981 movie was nominated for five Oscars including Best Picture, Actor, Actress, Director, and Screenplay.
"For the screenplay, Malle immediately contacted playwright John Guare who he first befriended in 1977 after attending a performance of Guare's Landscape of the Body. Guare had become one of New York's most acclaimed playwrights by the mid-seventies with such Off-Broadway hits to his credit as The House of Blue Leaves and Marco Polo Sings a Solo…
Guare was between plays so he accepted Malle's offer and according to the director (in Malle on Malle), "we started talking. In the preceding winter, literally every day, the New York Times had something about what was going on in Atlantic City. They had just legalized gambling there. It was very controversial, and there were all these stories about 'Will the mob move in?" Two casinos had just opened and they were building several more…I said, 'Maybe this is something we should look into.' And John said, "I couldn't agree more and it so happens that one of my parents' old friends is the manager of the first casino to open, Resorts International.' We called him, we rented a car, drove down to Atlantic City and spent something like twenty-four hours there. I don't think we slept at all. His friend took us around, explained what was going on, and we saw for ourselves all the contrasts, all the gloss. The rest of the town was literally a slum. Before they legalized gambling, Atlantic City, which had had a glorious past in the 1920s and 1930s and 1940s, had almost become a ghost town."
Couldn't find a clean copy of the "you should have seen the Atlantic Ocean back then" scene, but this one will due quite nicely, when Lou admits to watch gorgeous Sally (and Susan Sarandon was smokin' then) with her nightly lemon ritual. The movie scene is actually pretty close to the script…
LOU: I watch you.
SALLY: Through my window?
LOU: You saw me?
SALLY: I figured maybe somebody was there.
LOU: Did you know it was me?
SALLY: You were just this guy across the way.
LOU: Why do you use lemons?
SALLY: The fish smell. I'm embarrassed.
LOU: I thought maybe it was for some other reasons I didn't understand.
I even went to a supermarket to look at lemons.
SALLY: It's just to get the smell off. It's nothing weird. What do you do when you watch me?
LOU: I look at you. You take off your blouse, then you run the water.
Then you take a bottle of gold perfume and put it on the sink.
Then you slice the lemons. You open a box of blue soap.
You run your hands under the water to feel the temperature.
Then you take the soap in your hands and…
In 1972 Bob Rafelson made the other seminal Atlantic City movie. King Of Marvin Gardens had a killer cast(Jack Nicholson, Ellen Burstyn, Bruce Dern). Shot in the dumpy, post-Democratic Conventon, pre-casino gambling days, it frames the down-and-out town as home of low rent hustlers working their scams, to a very bad conclusion. As you can read from the Wiki, the photography of the movie was significant:
"The King of Marvin Gardens was shot almost entirely on location in Atlantic City in the winter months of 1972. It is therefore of considerable historical significance as a visual record of the very last days of the city's "classic era" resort architecture. Many of the grand hotels shown in the film's exterior scenes were demolished during the next few years to make way for the new generation of casino-hotels that were built after the legalization of gambling. Filming took place only months before the vast Traymore Hotel was explosively demolished in April 1972, and the movie's main location, the opulent Marlborough-Blenheim Hotel was demolished in 1978 to make way for Bally's Atlantic City.
The title of the film (which was originally to be called The Philosopher King) is an ironic reference to the American version of the board game Monopoly, in which the main properties were named after locations in Atlantic City. This reference was also reflected in the film's original poster art.
The film was one of several collaborations between Jack Nicholson and Bob Rafelson, which included the Monkees film Head (1968) and Five Easy Pieces (1970), which established both men as major figures in Hollywood. Dern and Nicholson had previously worked together in Psych-Out (1968) and Rebel Rousers (1970) and Nicholson and Scatman Crothers subsequently co-starred in Miloš Forman's One Flew Over the Cuckoo's Nest (1975) and Stanley Kubrick's The Shining (1980)."
I picked a clip that features an opening scene almost unmatched in movie history (and yeah, I pick those words carefully). Only the opening of Annie Hall can match this four-minute monologue in a single tight close-up with unmoving camera. To open the movie?! Amazing. One of the great monologues from screenwriter Jacob Brackman, delivered by Jack Nicholson in his prime.
DAVID STAEBLER: I promised that I would tell you…why I never eat fish.
When we all moved in to my grandfather's house, it…
somehow fell to me…to keep the old man's mind off of things.
We would play casino over an old card table. He never let me win.
One time he put one of those tiny model trains…
into my hamburger. He was a practical joker. I broke my tooth on it.
On Friday evenings we had fish at our house. Every Friday.
Not on religious grounds…but because Grandpa was a fish enthusiast.
"Keeps you from going blind," he would say…even though the bones
always got caught in his throat. My brother and I would sit
next to one another…waiting for his terrible coughing to begin.
Then one of us would be dispatched to the kitchen…
to get a flat heel of bread to clear the bones. He'd gulp it down, and slowly
his coughing would diminish…and then everything would be quiet again…
and we would go on with the meal nas though nothing had happened.
One Friday my parents went out…leaving my brother and I alone…
to serve ourselves and Grandfather. Mom left the fish warming on the stove –
breaded sole. The bread crumbs only helped to conceal the bones.
When the inevitable coughing began…my brother and I just sat…
and looked at each other…not moving. Grandfather's eyes got wide.
His face became contorted and red…his arms flailing about.
I raced to the kitchen and back…with a flat heel of pumpernickel.
Grandfather reached out for it convulsively…but…I…
handed it to my brother instead…and… he…back to me.
Grandfather pitched…face forward onto the dining room table
and then… back…knocking his chair over…pulling the tablecloth…
silverware, mashed potatoes…fish, stewed tomatoes with peppers and onions –
all of it -on top of him. Heaped on the floor…behind the table, he…
looked like the… remains…of some chaotic dinner party.
My brother took the incriminating pumpernickel from my hand…
and, uh – stuck it…into Grandpa's fingers. I think at that moment…
my brother and I became accomplices forever."Don't ever say a word about this," he said.
"Just go to bed and pretend…that you're asleep." The next morning…
my parents explained to me that, uh…Grandpa had gone away on business…
and had left me a very special…kiss good-bye."
Not sure why the embed isn't working, but the movie scene and monologue can be found here.