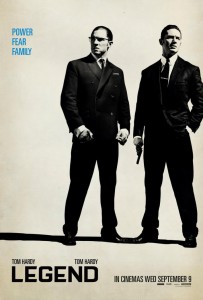 Some Tom Hardy love today. Apologies to all the DiCaprio-Hanks-Gosling-Depp-Denzel fans, but if we're talking male actors in 2017, it's Daniel Day Lewis and Tom Hardy. There's no space today to even get into Bronson, Mad Max: Fury Road, The Revenant, or The Dark Knight Rises. And did you see Taboo?!!! Daaaaaaaamn!
Today though, we'll look at a movie Hardy did that may have flew under your radar– Legend. Hardy pulled lots of Best Actor wins for these roles but no Oscar love, which is robbery. How do you do a tour-de-force on TWO performances as both Kray brothers and not get an Oscar nod? I've got the script from Brian Hegeland and a bunch of clips from the movie. Let's match them up and you tell me this wasn't one of the best performances from 2016. Apologies for the script non-spacing, I tried fixing it, but the blog tech won't fix it, so screw it… Let's do this…
First, the opening, where you get the excellent CG effect of Tom Hardy playing both brothers, setting up the movie:
FADE IN:
EXT. LONDON SKYLINE – DUSK
PANNING DOWN from the heavens to the city below. Seen from
the East End looking west. Traffic in the streets, the
Thames, St. Paul's. The BELLS at Bow Church can be heard.
FRANCES (V.O.)
London in the 1960's. Everyone had a
story about the Krays. You could
walk into any pub to hear a lie or
two about them.
EXT. LINCOLN CONTINENTAL – ROLLING THE WEST END – NIGHT
We are low on the rear fender looking up, awash in neon:
Ronnie Scott's, the Marquee Club. We catch glimpses of the
pretty people passing by.
FRANCES (V.O.)
But I was there and I am not
careless with the truth.
INT. LINCOLN CONTINENTAL – ROLLING THE WEST END – NIGHT
 In the backseat, the Krays: REGGIE tough and fit, RON off
kilter in style. An odd slowness here, like time has stood
still. Are they on their way to gangster heaven?
FRANCES (V.O.)
They were brothers. But bound by
more than blood, they were twins as
well. Counterparts. Gangster princes
of the city they meant to conquer.
Ron, heavier, thicker, bespectacled, looks to his brother.
FRANCES (V.O.)
Ron Kray was a one man London mob.
Bloodthirsty, illogical, but funny
as well.
Reggie looks out the window watching London pass by.
FRANCES (V.O.)
Reggie was different. Once in a
lifetime do you find a street
fighting man like Reg. Believe me
when I say it took a lot of love for
me to hate him the way I do.
I love this bar fight scene with the rival Richardson gang. A proper shootout!
Four customers scurry out. The other EIGHT are RICHARDSON
GANGSTERS. Approaching from all sides. Tough bastards. Tooled
up with coshes and pipes. One, Mike Jobber, holds a razor.
MIKE JOBBER
Reg, Ron, the Richardsons were
unexpectedly engaged. We're going to
look after you.
RON
(re: Jobber's razor)
What's that supposed to be?
MIKE JOBBER
What do you think? It's a tool.
RON
No it's not; it's a fucking utensil.
What are you going to do with that,
fry me an egg?
Ron indicates some hard metal shoved down in his pockets.
Pistols? As Jobber frowns…
RON (CONT'D)
I came here for a shoot out. A
proper shoot out with some proper
men! Like Colonel Custer and
Geronimo.
(turns)
Reg, this lot are fucking nonces.
(to Jobber)
Get out of my way….
Motioning, with what seem to be guns, Ron walks past the
Richardson gang and pauses by the front door.
RON (CONT'D)
A shoot-out is a fucking shoot out! Like a Western…
 And then he's gone. One of the gang closes the door behind
him. Jobber and the others turn back to Reggie.
MIKE JOBBER
You're brother's done a runner.
REGGIE
(shrugs)
You don't mind if I pour myself a
pint, do you?
Reggie reaches over the bar, starts to POUR a GUINNESS.
Jobber trades incredulous looks with the others.
Also love this scene with Chazz Palminteri as an American mafioso looking to go into business with the Krays:
RUNO
London's going to be the Las Vegas
of Europe. We need someone to front
and someone to muscle for us.
REGGIE
We can do your security, but we
don't want to work for you; we want
to work with you.
PAYNE
What Reggie is trying to say —
Final Shooting Draft
BRUNO
I think he knows what he's trying to
say. He just said it. We're in your
backyard and Mr. Lansky is open to
discussions of this nature.
(points at briefcase)
He sends this as a good will
gesture. Just a taste.
Reggie opens briefcase one. It is filled with $100 BILLS.
BRUNO (CONT'D)
For expenses. Now the second
briefcase contains business of my
own I need to take care of.
Payne opens this one: It contains banded stacks of…
BRUNO (CONT'D)
One hundred grand in negotiable
bearer bonds. Jacked from a bank in
Montreal. Too hot to move in North
America. Can you guys handle it?
Reggie looks at Payne. Payne gives the slightest nod back.
REGGIE
Yeah, we can handle it.
BRUNO
Boys who jacked it get twenty
percent. We split the rest
sixty/forty. This works out, Reggie,
I got a two million dollar backlog
of those bad boys. Does that sound
like you're staying out of our way?
Reggie considers Bruno. A moment of truth.
REGGIE
Fifty/fifty, mate.
Bruno considers him back…
BRUNO
I like you, Reggie. Fifty/fifty itis, done.
Lastly, Tom Hardy fights with himself when Reggie come home from jail to find Ron running the business into the ground:
Ron sees Reggie and Frances are starting out of the club.
RON (CONT'D)
Reg! Reggie!
Reggie pauses as his brother starts forward, glass raised.
RON (CONT'D)
A toast to my brother! Home at last.
Like Odysseus returned to Ithaca.
And Frances! Dear lovely Frances.
Reggie can't bring himself to leave. He motions Frances to
wait, but she follows him as he meets his brother.
REGGIE
Here, what are you playing at?
RON
I'm not playing; you are. Finally
home and you don't even say hello,
you don't even thank me?
REGGIE
Thank you for what?! For running
this place into the fucking ground!?
For ruining all my hard work?!
RON
What are you shouting at me for? You
were away and I had to make do with
what I had.
REGGIE
You're fucking unbelievable.
RON
We can fix it. We're together again.
FRANCES
Reggie…
Reggie looks back at her.
'Let's go'
in her eyes. As Ron
feels himself losing his brother…
RON
We're talking about earning a
living, Frances. We're talking about
being gangsters which is what we
are. So fuck off.
As Reggie reacts to that, Frances stands her ground.
FRANCES
One day, Ron Kray, your miserable
life will swallow you whole.