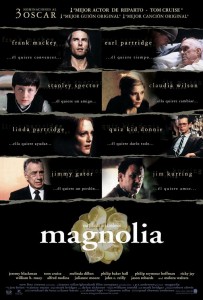 I tried! I really did…but I can't pick between them. Two scenes from Magnolia are classics. Let's look at the clip and script for each:
The interview scene for Seduce and Destroy is a great scene for beat analysis. The Frank T.J. Mackey (Tom Cruise) character starts out dominating Beat 1– in his tighty-whities, doing backflips and Tai Chi– but by the end of the sequence the calm, quiet interviewer (April Grace) nails his sculpted ass to the wall for lies about his family.
Why is this important to study? Because, as Wells said,  "everyone has their reasons". Characters acting upon wants/needs create narrative action. When two characters face each other with opposite agendas–then it's warfare. Who will win? A "beat" is the smallest actable moment. Who controls the beat controls the scene. Control enough scenes, you control the narrative focus of the movie (aka, the protagonist).
Here's the first beat in a Youtube video (best I could find). If you want to see the full sequence you'll need to break out the Magnolia DVD. This opening rant/monologue starts the "interview":
The Interview: Beat 2:
The second beat is still controlled but Cruise, but starts to shift control when the interviewer RELENTLESSLY moves the interview to discussion of Mackey's past. He fights against it but she won't have it, and keeps after him….
Frank and Gwenovier doing the telvision interview. CAMERA DOLLIES
IN SLOW ON EACH:
FRANK
— that's right, that's right, and what I'M
saying, that none of my competitors can say is
this: That there is no need for insight or
understanding. Things of the past! Gone, Over, Done.
Do you realize how fucking miraculous this is?
How fucking razor sharp and cutting edge and
ahead of it's time this concept is? I'm
talking about eliminating insight and understanding
as human values. GOD DAMN I'M GOOD. There is
no need for INSIGHT. There is no need for
UNDERSTANDING. I have found a way to take
any subjective human experience — in other
words — all the terrible shit or all the
great shit that you've had happen to you in
your life — and quickly and easily transform
it in the unconscious mind through the subtle
and cunning use of language. The "listener-patient"
(in other words: The Chick) settles into a very
light, very delicate, conversationally induced
state: NOT A TRANCE, mind you, but a STATE.
A state that is brand new. The System's state.
What did I do? I REALIZED that concept and put
it into practical "get my dick hard and fuck it" use.
I'm gonna build a state for the seducer and the
seducee to live, vote, breath, pay takes and party
'till dawn. I'm gonna teach methods of language that
will help anyone get a piece of ass, tit and tail —
GWENOVIER
Let's talk about —
FRANK
I just realized this is for television,
isn't it? I can't swear up and down
like I just did.
GWENOVIER
It's fine. I can bleep it out.
FRANK
I warned you — I get on a roll…
GWENOVIER
— let's talk more about your background —
FRANK
Muffy — coffee?
Muffy moves to pour a cup, Gwen looks down at her clipboard, then:
GWENOVIER
I'm confused about your past is the thing.
FRANK
Is that still lingering?
GWENOVIER
— just to clarify —
FRANK
So boring, so useless —
GWENOVIER
I would just want to clear some things up:
FRANK
(Muffy delivers coffee)
Thank you, Muffy. Funny thing is:
This is an important element of,
"Seduce and Destroy:"
"Facing the past is an important way
in not making progress," that's something
I tell my men over and over —
GWENOVIER
This isn't meant —
FRANK
— and I try and teach the students to
ask: What is it in aid of?
GWENOVIER
Are you asking me that?
FRANK
Yes.
GWENOVIER
Well, just trying to figure out who you are,
and how you might have become —
FRANK
In aid of what?
GWENOVIER
I'm saying, Frank, in trying to
figure out who you are —
FRANK
— there's a lot more important things
I'd like to put myself into —
GWENOVIER
It's all important —
FRANK
Not really.
GWENOVIER
It's not like I'm trying to attack you —
FRANK
This is how you wanna spend the time,
then go, go, go — you're gonna
be surprised at what a waste it is —
"The most useless thing in the world
is that which is behind me," Chapter Three —
GWENOVIER
We talked earlier about your mother.
And we talked about your father and his death.
And I don't want to be challenging or
defeatist here, but I have to ask and
I would want to clarify something —
something that I understand —
FRANK
I'm not sure I hear a question in there?
GWENOVIER
Do you remember a Miss Simms?
FRANK
I know alotta women and I'm sure she remembers me.
GWENOVIER
She does. From when you were a boy.
FRANK
Mm. Hm.
GWENOVIER
She lived in Tarzana.
FRANK
An old stomping ground –is this
the "attack" portion of the interview,
I figured this was coming sooner
or later — Is "the girl" coming in for the kill?
GWENOVIER
No, this is about getting something
right and claryfying one of your answers
to an earlier question —
FRANK
Go ahead and waste your time.
GWENOVIER
I was told that your mother died.
That your mother died when you were young —
FRANK
And that's what you've heard?
GWENOVIER
I talked to Miss Simms. Miss Simms
was your caretaker and neighbor
after your mother died in 1980.
BEAT. Frank goes silent.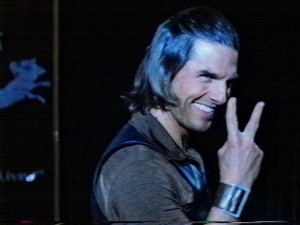 The Interview: Beat 3
I usually hate BEATS written into the script but that one is right on. The guy who was rolling around in his underwear and high-fiving his crew has now been silenced. Mackey realizes only now where this is going, what this woman's agenda is…in his macho mind–she's a female out to ambush him, to crush him out, to take him down.
GWENOVIER
In my research I have you listed as
the only son of Earl and Lily Partridge.
(beat)
And what I learned from Mrs. Simms is that
your mother passed away in 1980.
(beat)
See: It's my understanding that the information
supplied by you and your company and answers
to question's I've asked are incorrect, Frank.
And if I'd like to get to the bottom of who you
are and why you are then I think your family
history — you're accurate family history…well:
this seems important…Frank…?
VIDEO CAMERA POV – THAT MOMENT
Frank lights his cigarette. CAMERA zooms into CU.
FRANK
Are you asking me a question?
GWEN
Well I guess the question is this:
Do you remember Miss Simms?
BEAT. HOLD, THEN:
CUT TO: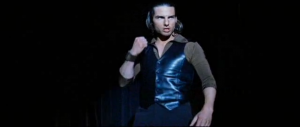 The Interview: Beat 4
Loving how every time P.T. Anderson cuts there's a new beat. The hyperventilating Frank T.J. Mackey has been reduced to silence. He hasn't conceded anything, mind you. He's just come to realize that Gwenovier, with her "research" , is trying to take him out. He needs a new strategy. In the meantime…
INT. HOLIDAY INN SUITE – THAT MOMENT
CAMERA pushes in on Gwenovier and Frank. (Dead on Singles.)
GWENOVIER
C'mon, Frank. What are you doing?
FRANK
What am I doing?
GWENOVIER
Yeah.
FRANK
I'm quietly judging you.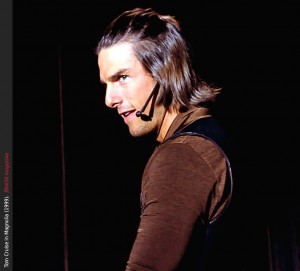 Beat 5: The bell rings, Round Over. Awarded to the Interviewer, but Mackey survived by the ol' Rope-A-Dope. Stalling…
INT. HOLIDAY INN SUITE – THAT MOMENT
CAMERA on Frank. He looks at his watch, then:
FRANK
Time's up. Thank you for the interview.
GWENOVIER
So you sat it out, that's what you did?
FRANK
You requested my time and I gave it
you, you called me a liar and made accusations.
And you say, "If I'd known I wouldn't have
asked," then it's not an attack? Well,
I don't wanna be the sort of fella who doesn't
keep his word. I gave you my time, Bitch.
So fuck you now.
Frank heads out of the room quick. CAMERA leading him in CU.
GWENOVIER
You're hurting a lot of people, Frank —
FRANK
— fuck you.
He's out the door with Captain Muffy in tow.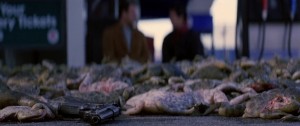 The great blog Go Into The Story went into depth on the "meaning" of this scene. Visual metaphor? Poetic allegory? I really don't know. I just wanted to provide you the script segment (edited) and clip from one of the most memorable scenes in movie history. The clip has the full sequence of the script. They are almost exactly the same.
INT. JIM KURRING'S CAR – THAT MOMENT
Jim Kurring drives a few more feet….slows down…then starts
to make a u-turn to go back to the store….
JIM'S POV – MOVING – THROUGH THE WINDHSIELD.
The car starts to turn 180 degrees……as soon as it is headed
going back the opposite direction….
……..CRACK……..
From the sky, out of the blue, a large GREEN FROG lands on Jim Kurring's
windhsield.
CU – Jim Kurring. Scared shitless.
POV – Another GREEN FROG slams on the HOOD OF THE CAR.
CU – Brake. Jim's foot SLAMS ON THE BRAKE.
EXT. MAGNOLIA BLVD. – THAT MOMENT
JIM'S POV – LOOKING STRAIGHT UP.
It's dark and empty sky…..
….hold on him….he looks at the Frog that has landed on
the windshield….it's dead and splattered…..
SUDDENLY:
The SOUND of ANOTHER FROG FALLING FROM THE SKY AND SLAMMING
ON THE ROOF OF THE CAR.
Jim jumps…..looks up again….
….from straight out of the sky comes ANOTHER FROG falling
DIRECTLY INTO THE CAMERA….it SPLATS….
…then another and another and another…..
WIDE ANGLE. THE STREET.
It starts to RAIN FROGS in the middle of Magnolia Blvd.
INT. CLAUDIA'S APARTMENT
CU – Claudia snorts a line of coke off her coffee table.
Another FROG FALLS…she looks…she walks to the window….
…..A dozen FROGS FALL IN VERY QUICK SUCCESION…..
She jumps back from the window…stumbles a bit…knocks
over a lamp, which SMASHES to the floor…..her apartment
goes DARK….except for street light…more FROGS FALL and
we hear the sound and see them through the window in glimpses…..
EXT. CLAUDIA'S APARTMENT/STREET – THAT MOMENT
The FROGS are falling sort of heavy now….Rose's JAGUAR comes
through it….skids and SMASHES into a PARKED CAR….
CAMERA DOLLIES over to her….she looks up at them….they FALL
STRAIGHT INTO CAMERA AND ONTO THE HOOD, WINDSHIELD AND ROOF….
..Rose puts the Jaguar in reverse and tries to back away from the
smashed parked car…..the bumper's are stuck….
INT. EARL'S HOUSE – THAT MOMENT
The CAMERA holds on Earl and Frank. Frank has his head buried
in Earl's bed holding his hand, crying….it's very quiet….
CU – Phil. He's crying a bit standing off to the side.
He looks out the window's and the glass doors and sees the FROGS
come raining down. His mouth drops and he can't speak.
Frank doesn't notice. The FROGS fall in the backyard and into THE POOL.
PHIL
There are frogs falling from the sky.
EXT. WHITSETT/NORTH HOLLYWOOD MED. CENTER – THAT MOMENT
The PARAMEDICS are driving real fast down the street…..
INT. AMBULANCE – MOVING – THAT MOMENT
Linda is on life support stuff in the ambulance. Looking past her,
we see the view of the road through the windshield — the amubulance
driver going real fast and just about to pull into the hospital
emergency entrance….
FROGS START PELTING THE WINDSHIELD…..THE DRIVER SWERVES…
EXT. STREET/AMBULANCE – THAT MOMENT
A WIDE ANGLE where we see the FROGS falling onto the moving,
swerving Ambulance….one FROG lands so hard on top of the
red lights on the ambulance that it CRACKS….
…the FROGS in the middle of the road start to act as a
lubricant on the already wet/damp street and the Ambulance
starts to SKID SIDEWAYS….
…it FALLS ON IT'S SIDE.
INT. AMBULANCE – POV
As it falls on it's side and skids a bit….over the Frogs…
EXT. EMERGENCY ROOM ENTRANCE – THAT MOMENT
Ambulance skids right up to the emergency room entrance.
INT. JIMMY'S HOUSE – KITCHEN – THAT MOMENT
Jimmy with the Revolver to his head…he cocks it back…
INTERCUT:
EXT. SKY/INT. HOUSE – THAT MOMENT
CAMERA above Jimmy's house, looking straight down and MOVING
towards a SKYLIGHT above the kitchen…a FROG enters FRAME,
falling straight towards this skylight —
Inside the house,
Jimmy about to pull the trigger…SOUND DROPS OUT.
The falling FROG comes STRAIGHT THROUGH THE SKYLIGHT, SMASHING
THROUGH….
…falls straight down onto Jimmy's head….the GUN GOES OFF
WILDLY…..SMASHES the TELEVISION…….
Jimmy falls to the ground….GLASS FALLS from the broken skylight….
…more FROGS continue to fall through it and into the kitchen
and around Jimmy…..
…the BULLET into TELEVISION has sparked something and the SOCKET
it's plugged into CATCHES FIRE…..
CU – INSIDE THE WALL, NEAR THE SOCKET.
Camera moves in and sees some SPARK and FLASH and FIRE started….
EXT. SOLOMON AND SOLOMON ELECTRONICS – THAT MOMENT
Donnie starts to climb up a ladder attached to the side
of the building….near the loading dock area….
CUT TO:
EXT. STREET NEARBY – THAT MOMENT
Jim Kurring is in the middle of the Frog Rain…he puts his
car into gear and drives down the street….
….about twenty yards later and he's out of it….
…he pulls into the parking lot behind Solomon and
Solomon…..it's not raining frogs here…..
Kurring's HEADLIGHTS catch a glimpse of Donnie starting to climb…
…Donnie gets scared and FREEZES….
…Kurring is oblivious to Donnie for the moment. He looks in
his REARVIEW MIRROR and sees the FROGS FALLING….
…Donnie looks past Kurring and now sees the FROGS FALLING
in a 50 x 50 area in the street….
…Donnie looks up…
….FROGS ARE FALLING STAIGHT AT HIM/CAMERA AND THEY KNOCK HIM DOWN
AND TO THE CEMENT…..he falls flat on his FACE...