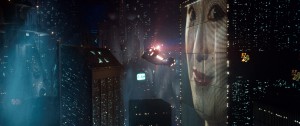 Today let's go back to our clips/scripts series of great scenes. We'll look at the script for Blade Runner, the final fight sequence between Blatty (Rutger Hauer) and Deckard (Harrison Ford). This is the Hampton Fancher/David Peoples draft dated February 1981. Not sure which draft this is, but it;s very different from the theatrical version of the movie. Because of that, it's an interesting choice to examine.
This is a favorite scene of mine because of the humanity on display–by the replicant. When Roy sees Deckard desperately hanging on the ledge, something in his mind becomes absolutely human. He will not only NOT kill him, but actually save him from sure death. But he waits until Deckard actually loses his grip before he grabs him.
In that last second, it's the replicant hunter–Deckard–who can finally feel for the beings he's been hunting. So there's a reversal for both characters. The hunter becomes the hunted. At the top and throughout the movie Deckard never experiences such humanity. And then comes the Hauer monologue to Vangelis music that is not in the script…Oh!
To die for…seriously. Couldn't you go to your grave if you had authored just one moment like that would last a hundred years?
A large piece of this scene is in the Youtube video below.
Let's look at the script(some trims included):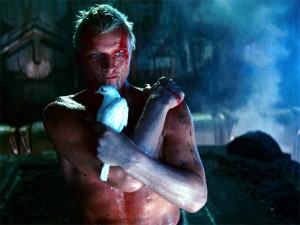 INT. CORRIDOR – TENTH FLOOR – NIGHT 106
Deckard looks around the corner of the door down the
hall. Batty's at the other end. Except for jockstrap
and gym shoes, he's nude.
BATTY
You wanna play?
Deckard FIRES. Batty's fast. He ducks into a doorway.
Pops out again.
BATTY
Not very sporting to fire on an
unarmed opponent. I thought you
were supposed to be good. Aren't
you the man?!
The makeup on Batty's face is somewhere between a Coman-
che warrior and a transvestite. The immensity of his
insolence awesome — the muscles of his body are swol-
len, trembling from the thrill of it.
BATTY
This is how we do it up there, lad!
Come on!
In a blue of lightning-like action, Batty whips down the
hall, zigzagging off the walls towards Deckard so fast
that Deckard gets only three SHOTS off before the blur
crashes through the wall on his left with a laugh.
Deckard stands there a moment — digesting the impact
of it, then edges up to the gaping wall. Batty is be-
hind him.
He knees Deckard in the back and slaps him in the head.
Deckard goes to his knees, then over on his face.
Batty kneels next to him.
BATTY
Not hurt, are you? You better get
it up or I'm going to have to kill
you. Unless you're alive you can't
play. And if you don't play, you
don't get to be alive.
Deckard's eyes are closed, mouth bleeding. He exhales
and makes and effort. He slides his hands up even with
his chest and starts to push.
BATTY
That's the spirit.
Like a matador, Batty walks away. By the time Deckard's
on his feet, Batty's disappeared through one of the
doors.
Deckard wipes the blood from his mouth, bends down and
picks up his laser, reloads and looks down the hall,
towards the jeering voice.
BATTY'S VOICE
Come on, Deckard, show me what you
got! I'm right here on the other
side of the door. But you gotta
shoot straight 'cause I'm fast!
Deckard gets to the door, BLASTS it, kicks it open and
FIRES at Batty. But it's only the reflection of Batty.
INT. TENTH FLOOR HALL – NIGHT 116
He's backing Deckard out the door. Deckard trips and
falls. There's fear on his face. The strength is gone.
Something is starting to crack.
BATTY
What's wrong? Aren't you a lover
of Faster, Bigger and Better?!
Deckard's pedaling backwards over the floor.
BATTY
It's time to die.
Deckard throws the laser at him. It misses. Batty
throws his head back and laughs. A one-eyed colossus
about to eat the world. Suddenly he stops. His eye
moves over the wall.
Playing with him! Blatty could kill Deckard, but he's teaching him a lesson…what it feels like to fear. Deckard might have the laser but Blatty is in control– "a one-eyed colossus"–beautifully described.  The descriptive language fast, to-the-death crosscutting.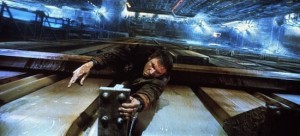 As mentioned previously, I'm not sure what draft this is, but check out how different the script ending is from the final movie. Screen the YouTube clip below while reading this. Don't know about you, but there's no comparison for me–movie over script:
  INT. TENTH FLOOR APARTMENT #2 - NIGHT 117

 Provocation accomplished. Batty smiles and walks lei-
 surely towards the door. Deckard's terrified scream
 and the SOUND of GLASS CRASHING stop him. Batty speeds
 up and moves into the room.

 The window pane is splattered, curtains sucked out,
 bellowing in the wind.

 BATTY
 Crap.

 He walks up to the window. Deckard comes away from the
 wall, inching up behind him, laser in both hands, aimed
 at the base of Batty's skull. Batty starts to lean
 over, but even before his eyes see the pavement, he
 knows. He spins...

 Deckard FIRES again. This one goes home. Batty falls
 like he was poleaxed, hits the floor dead weight.

 Deckard starts to tremble. His arms go limp as his
 head tilts back and he closes his eyes. He can breathe
 again.
 
 On the floor, Batty's hand is crawling toward Deckard's
 ankle.

 With the unsuspected abruptness of a man slipping on a
 banana peel, Deckard comes down. Face knotted in hor-
 ror, he EMPTIES THE LASER in Batty's body -- but the
 hand holds on. With a screech of frustration he drops
 the laser and like an animal claws at Batty's dead
 fingers -- but the fingers are welded shut.

 Deckard starts to crawl, pulling Batty behind him. He
 struggled through the door and stumbles to his feet.

 INT. TENTH FLOOR HALL - NIGHT 118

 Deckard plunges down the corridor dragging Batty along.
 He falls, gets to one foot, falls again and crawls the
 last couple feet to the stairwell.

 INT. TENTH FLOOR STAIRWELL - NIGHT 119

 Groaning, he tugs and pulls, hauls and heaves Batty's
 body to the edge of the landing. He pauses for breath,
 then lays back, wedging his feet against Batty's shoul-
 ders and pushes. Inch by inch the body goes over the
 edge. Then all at once it drops. But the hand holds
 and the weight of the body takes Deckard with it. As
 Deckard slides over the edge, he grabs hold of the
 railing.

 Deckard's hanging three hundred feet over the basement
 floor, supporting himself and Batty's corpse -- almost
 four hundred pounds of stress on his fingers.
 
 With his free foot he chops away at Batty's hand, try-
 ing to break it loose. But it's not working. Deckard's
 fingers are starting to slip.

 His face is a mask of agony as he wedges his heel over
 Batty's thumb. With the help of gravity and everything
 he's got in his right leg to push with, he pushes. The
 thumb breaks loose. Batty falls.

 The SOUND OF HIS BODY HITTING BELOW sounds good, but
 Deckard doesn't notice. He's in an awkward position.
 He must reverse the way he's facing to pull himself up.
 He lets go with his right hand and crosses it over the
 left. Then turns the left around so he's got an over-
 hand grip.

 Like a man doing his last pull-up... the one that can't
 be done, Deckard pulls himself up, throws a foot over
 the edge and grapples and heaves and wiggled himself
 onto the cold solid steel of the stairwell landing.

 And lies there, body jerking spasmodically, slowly
 clenching and unclenching his cramped hand, but it's
 his burning cheek against the cool metal he's most aware
 of.

 Dizzy, hot, lungs on fire, he stands -- and putting one
 foot in front of the other, Deckard descends the stairs.