You get one scene from On The Waterfront, which do you pick?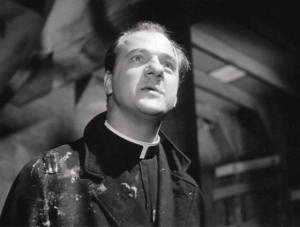 How about the Father Barry (Karl Malden) monologue where he gets pelted with crap for rabble-rousing?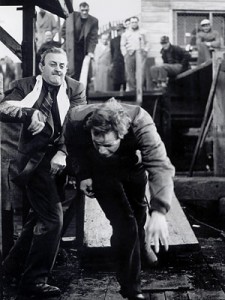 Or the final punch up scene with a half-crippled Terry Malloy (Marlon Brando) fighting the heinous Johnny Friendly (Lee J. Cobb)?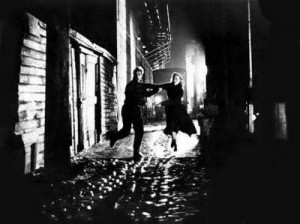 How about the alley scene with Brando and Eva Marie Saint (16th credit on IMDB??? The hell is that about?!) where Brando discovers his brother (Rod Steiger) nailed up to a wall, dead, like a sliced side of beef?
Nope, gotta pass on those for this scene with Steiger and Brando in the back of a taxicab–and you know the one I'm reaching for…
We remember some classic scenes by a single line of dialogue, and this is one of them…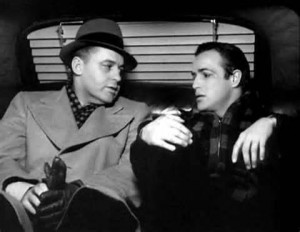 "I coulda been a contender…."
Google that phrase and you'll see how many times this scene has been memorialized. How about starting with Deniro's version in Raging Bull:
Budd Schulberg's work with A Face In The Crowd was enough to have him remembered decades after he was gone but writing On The Waterfront was an even greater achievement. This movie won 8 Oscars. It features Cobb, Brando, Malden and Steiger at the height of their power. And this single scene is for the ages.
As usual, I've got the movie clip below via YouTube to compare with the script. The longest cut I found is 2:42, which doesn't take us back far enough to show the first beat of the scene. Stakes are life and death. The scene seals the fate of both the characters, but you'd never know it at the top. Seems almost casual when he tells the driver to go to 437 River Street…
INT—TAXICAB—EVENING—(N.Y.B.G.)
Charley and Terry have just entered the cab.
TERRY
Gee, Charley, I'm sure glad you stopped
by for me. I needed to talk to you. What's it they
say about blood, it's—
(falters)
CHARLEY
(looking away coldly)
Thicker than water.
DRIVER
(gravel voice, without turning around)
Where to?
CHARLEY
Four thirty-seven River Street.
TERRY
River Street? I thought we was going to
the Garden.
CHARLEY
I've got to cover a bet there on the way
over. Anyway, it gives us a chance to talk.
TERRY
Nothing ever stops you from talking, Charley.
CHARLEY
The grapevine says you picked up a subpoena.
TERRY
That's right… .
CHARLEY
(watching for his reaction)
Of course, the boys know you too well to mark
you down for a cheese-eater.
TERRY
Mm—hmm.
CHARLEY
You know, the boys are getting rather
interested in your future.
TERRY
Mm—hmmm.
CHARLEY
They feel you've been sort of left out of
things, Terry. They think it's time you had a few
little things going for you on the docks.
TERRY
A steady job and a few bucks extra, that's
all I wanted.
CHARLEY
Sure, that's all right when you're a kid,
but you'll be pushing thirty pretty soon, slugger.
It's time you got some ambition.
TERRY
I always figured I'd live longer without it.
CHARLEY
Maybe.
Terry looks at him.
CHARLEY
There's a slot for a boss loader on the
new pier we're opening up.
TERRY
(interested)
Boss loader!
CHARLEY
Ten cents a hundred pounds on everything
that moves in and out. And you don't have
to lift a finger. It'll be three-four hundred a week
just for openers.
TERRY
And for all that dough I don't do nothin'?
CHARLEY
Absolutely nothing. You do nothing and you
say nothing. You understand, don't you, kid?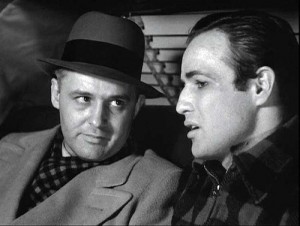 No, he doesn't have to do anything…just sell his soul to Johnny Friendly. Silence, no ratting, and you're taken care of, Terry. But you gotta shut up, that's something you gotta do oh yes, because blood is thicker than water, and your brother shifts the beat right here…
TERRY
(struggling with an unfamiliar problem of conscience
and loyalties)
Yeah— yeah— I guess I do— but there's
a lot more to this whole thing than I thought,
Charley.
CHARLEY
You don't mean you're thinking of testifying
against—
(turns a thumb in toward himself)
TERRY
I don't know— I don't know! I tell you I
ain't made up my mind yet. That's what I wanted
to talk to you about.
CHARLEY
(patiently, as to a stubborn child)
Listen, Terry, these piers we handle through
the locals— you know what they're worth to us?
TERRY
I know. I know.
CHARLEY
Well, then, you know Cousin Johnny
isn't going to jeopardize a setup like that for one
rubber-lipped—
TERRY
Don't say that!
CHARLEY
—ex-tanker who's walking on his heels— ?
TERRY
Don't say that!
CHARLEY
What the hell!!!
TERRY
I could have been better!
CHARLEY
The point is— there isn't much time, kid.
There is a painful pause, as they appraise each other.
TERRY
(desperately)
I tell you, Charley, I haven't made up my mind!
CHARLEY
Make up your mind, kid, I beg you, before we get
to four thirty-seven River… .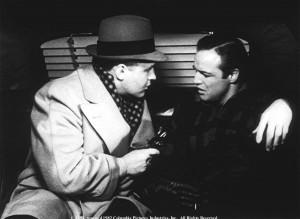 This is where Brando realizes his brother is taking him to his death. He's never going to testify. Now it's life and death, ramping the scene up into a whole new level. Brando has minutes to decide and it's his own brother who holds the gun.
TERRY
Charley… you wouldn't take me to Gerry G… .?
Charley continues looking at him. He does not deny it. They stare at
each other for a moment. Then suddenly Terry starts out of the cab.
Charley pulls a pistol. Terry is motionless, now, looking
at Charley.
CHARLEY
Take the boss loading, kid. For God's
sake. I don't want to hurt you.
TERRY
Charley… . Charley… . Wow… .
CHARLEY
I wish I didn't have to do this, Terry.
Terry eyes him, beaten. Charley leans back and looks at Terry
strangely. Terry raises his hands above his head, somewhat in the
manner of a prizefighter mitting the crowd. The image nicks Charley's
memory.
TERRY
Wow… .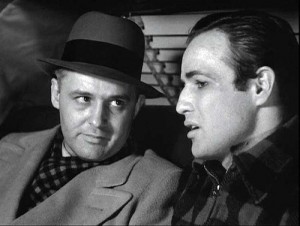 What follows changes the lives of both them for keeps. It's universal because it speaks to core humanity, that fundamental regret in almost all of us–Langston Hughes, " What happens to a dream deferred?" The tragedy in the scene isn't just Charley's crushing his brother's dream. It's that Charley, by letting Terry go, is forfeiting his own life. He knows when he tells Terry to blow, and tells the driver, "now take me to the Garden." Charley is every bit as tragic a figure as Terry as his brother gets out of the cab, last time he'll ever see him.
CHARLEY
What do you weigh these days, slugger?
TERRY
…eight-seven, eighty-eight.
What's it to you?
CHARLEY
(nostalgically)
Gee, when you tipped one seventy-five
you were beautiful. You should've
been another Billy Conn. That skunk I got to
manage you brought you along too fast.
TERRY
It wasn't him!
(years of abuse crying out in him)
It was you, Charley. You and Johnny. Like the
night the two of youse come in the dressing
room and says, "Kid, this ain't your night— we're
going for the price on Wilson." It ain't my night.
I'd of taken Wilson apart that night! I was ready—
remember the early rounds throwing them combinations.
So what happens— This bum Wilson
he gets the title shot— outdoors in the ballpark!
– and what do I get— a couple of bucks and
a one-way ticket to Palookaville.
(more and more aroused as he relives it)
It was you, Charley. You was
my brother. You should of looked out for me.
Instead of making me take them dives for the
short-end money.
CHARLEY
I always had a bet down for
you. You saw some money.
TERRY
See! You don't understand!
CHARLEY
I tried to keep you in good with Johnny.
TERRY
You don't understand! I could've been a
contender. I could've had class and been somebody.
Real class. Instead of a bum, let's face it,
which is what I am. It was you, Charley.
Charley takes a long, fond look at Terry. Then he glances quickly out
the window.
MEDIUM SHOT—WATERFRONT—NIGHT
From Charley's angle. A gloomy light reflects the street numbers—433—
435—
INT—CLOSE—CAB—ON CHARLEY AND TERRY — NIGHT
TERRY
It was you, Charley… .
CHARLEY
(turning back to Terry, his tone suddenly changed)
Okay— I'll tell him I couldn't bring you in.
Ten to one they won't believe it, but— go ahead,
blow. Jump out, quick, and keep going… and God
help you from here on in.
LONGER ANGLE—CAB—NIGHT
As Terry jumps out. A bus is just starting up a little further along
the street.
EXT—MEDIUM LONG SHOT—RIVER STREET—NIGHT
Running, Terry leaps onto the back of the moving bus.
INT—CAB—RIVER ST.—NIGHT
CHARLEY
(to driver as he watches Terry go)
Now take me to the Garden.
Charley sinks back in his seat, his hand covering his face. The driver
turns around, gives him a withering look, steps on the gas, and guns
the car.