Can't let today go by without giving a nod to the Devolve team, which launched the first episode of Devolve, the web series, on the Fourth of July. Nice job everyone! Great scene celebrating with a party at Lexington and 23rd (see above) only a few days ago. The link to Episode 1 is here:
For those of you considering a web series, here is a production diary and post-production marketing ideas to help you avoid the bobby traps and brainstorm. Hope it helps. Vamos!
JANUARY: PRE-PRODUCTION WRAPS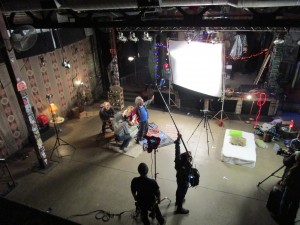 Three days in the third week of January emerged as our production dates. We would be shooting at Reggie's Rock Club on south State Street, Chicago. Christmas had wiped out the last weeks of December in everyone's schedule. The crew came back together in the early days of January to ramp up production. I always know when production time is closing in by the number of open threads in my email. Though this was a web series all the preparations were the same as if it were a movie–everybody with their own responsibilities, collaborating/multi-tasking to make this thing happen.
Dan Arthurs and David Schwartz were our Executive Producers and started the ball rolling. I was the Co-Producer who brought on Boris Wexler as lead Producer, John Mossman as Director, Lizz Leiser and her partner Ricardo as the writers. With Boris came killer Line Producer Jacquelyn Jamjoon and some of our Chat crew including Fred Miller, our DP, also Sarah Sharp, our Production Designer and Make up artist. With Fred came the G&E crew. With Mossman and some of my Columbia friends came great people for Script Supervisor, AD, 2ND AD, and PA's. See how this works? Who do you know. All links in a chain, one following the next. It's why your professional reputation is so important. If people enjoy working with you, they will again on the next project. Be an asshole and see how fast that gets around town.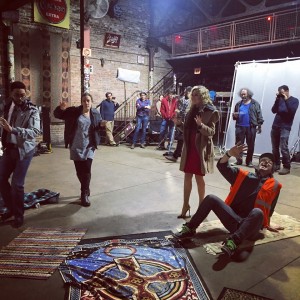 So, the pre-production multi-tasking was popping. Director Mossman sat in on final auditions and quickly decided top choices for each role. Jacquelyn sent out offers. She also updated the Google docs for scheduling and worked with the AD on call sheets. A location scout was scheduled for Reggie's Rock Bar so Production Designer Sharp and DP Fred Miller could get a sense of set and camera angles. Mossman and Miller worked up a shot list and overheads.
Meanwhile back in New York, Lizz and Ricardo were pounding on the script. These are primarily theater folk who, I think initially, were aghast at our ABSOLUTE OBSESSION over page count. Their first draft– 24 pages but not written on Final Draft so more like 30– was brilliant but had an unacceptable page count. The Boris equation for shooting pages per day is five comfortably, six or seven pages per day is pushing it, eight or more is Fantasyland– the chances highly likely you will NOT make your day. So yes, the script had to be pounded down. Subsequent drafts were 20 pages, then a last one at 17 pages, four episodes.
We were now ready to shoot it.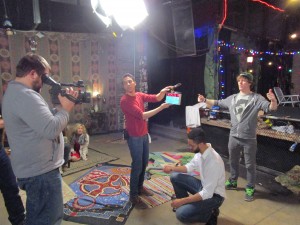 "Making your day" means you shoot everything you plan to shoot, in the time frame you plan to shoot it. Devolve made all three of its shooting days. The second day, in fact, we wrapped ahead of schedule. That's in italics for a reason–because it's happens rarely, at least to me. Getting every shot, multiple takes, ahead of time? Jacquelyn and I at one point remarked that it was too good to be true. Something was bound to fuck up. The two days I was there, it was satin smooth. It helps that a bunch of this crew had been together on our movie Chat. There is a shorthand when you know the other person, know they're a pro, how they react, and can cover if any shit goes down, which gives the set a flow, a confidence. Not to mention the cast of Devolve were breaking us up laughing every five minutes on the hour.  A shout out to my pal Rich Cotovsky, playing God, Dan Olsen as Adam, Kylan Conroy as Patsy, Alex Madda as Candace, Morgan Maher as Evan, Rashaad Hall as George, and of course Edwin A. Wilson as Rick Perry.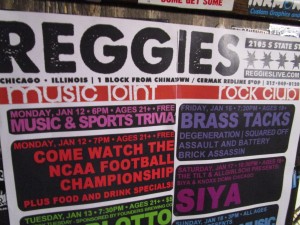 Day 3, last day of the shoot and the day I missed, I heard through the grapevine that the good luck dried up. Reggie's Rock Bar isn't a library. God Bless them, they are micro-budget friendly and anyone in Chicago looking for a club to shoot in has to look no further. Our first two days were scheduled from 3 a.m. to 3 p.m. The stage area is partitioned off from the bar area with metal doors which can be closed. So the first two days– though a couple bar patrons may have rolled in around 2pm– with the exception of the perpetual Chicago EL train thunder, there were no sound issues. That changed Day 3 when our shooting scheduled changed to 3pm to 3 a.m. We were now competing with 10X the customers and, apparently, a crazed Lottery guy, spinning his Big Wheel and instigating the audience to all manner of noise not conducive to the pillow soft quiet we needed to shoot our final scenes. Being as we weren't filming Chicago Fire the crowd didn't much care about how their noise was impacting our dinky web series. We soldiered on best we could. This is why God created ADR. Then Mossman calls the Martini shot, you look up, and the thing is in the can.
POST-PRODUCTION- BUDGET & MARKETING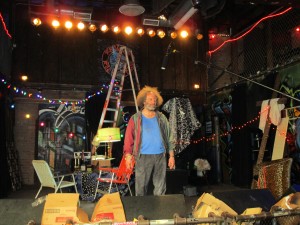 While I can't include the Google Docs budget here or go into specific dollar detail, my advice to keeping your costs down is this– wear a lot of hats. You can minimize fees for producer, writer, director, if all of them happen to be you! If you can't wear every hat then you'll need to find a combination of professionals working for less and students willing to work for the experience and credit. It's absolutely doable and you shouldn't feel intimidated. Are you connected in your film community? Take stock of who you can approach for each role. The goal: To pay the least humanly possible amount for quality people.
More specifically with Devolve, all six of our actors were SAG, so they received the $100 a day minimum (now $125!) Do you want your director to be a student filmmaker? Sure, you can find some promising people, but it's risky. We went with a pro in John Mossman, who gave us a good rate. Who else HAS to get paid? Well, no one, if you have quality people that you know willing to throw you some charity. And if you don't? The Producer and Line Producer have to get paid. There's a SAG P&H fee that has to get paid, also insurance. The DP has to get paid (yes, you can get a promising student for near free here, but do you want to risk it?) Lights may need to be rented. Gaffer and grips are paid, but not a ton. The sound guys HAVE to get paid. So do the art/makeup/hair departments. I know you didn't forget that you have to feed everybody. And lastly, the contingency fund should any Acts Of God befall you during the shoot.
Our marketing plan is in flux (we just wrapped 10 days ago as I write this) so I don't have the master plan yet, but some brainstorming was compiled by David and Dan, and follows here.
Devolve: Social Marketing and Promotion Plan
Audience Engagement – people and groups to connect with
–Young Funny or Die crowd
–Christian Right
–Atheists
–Marijuana enthusiasts
–Web series – comedy fans
–Comedians
–College friends' kids
–Crew and cast connections
Research
–Research and compile web series in our demographic
–Develop links to other web series on appropriate site (Delicious, StumbleUpon) – goal is to have a definitive collection
–Research and compile information about web series in our demographic
○ Statistics
○ Release dates
○ Film festival relevance
–Research and compile best teaser trailers for web series
○ What really makes you want to see a web series?
○ Big corporate web series
○ Small, independent web series
–Identify and categorize web series and blogs
○ Tactics
–Find Lists of web series on Twitter
–Create our own web series list on Twitter (try to get others to recognize and join)
○ Types of content to identify
–Review and memorialize what other successful series are doing
○ SCTV
○ High Maintenance – review press
○ The Guild
○ Others (?)
Social Networking
–Direct sharing with peers (viral marketing)
○ Email lists
○ FB posts
○ FB fan page
–Tie ins to Chicago groups
○ Filmmakers
○ Comedians
○ SCTV
–Twitter
○ Tweet helpful comments and questions about relevant audiences – develop wider following
○ Connect with (Tweet and follow) web series that we like and respect
— Form FB group for web series promotion
○ Research existing FB groups
○ get 10 web series members to join, each with 3 – 5 individuals;
○ Promote and recruit for FB group
–FB Devolve FB Fan page
○ Discuss when to promote – avoid clutter and noise
○ Develop plan
–Other platforms
○ Instagram
○ Tumbler
PR – Promotion
–John Mossman appearances, cast appeances
○ Podcasts
○ Groups/organizations
○ Web show
Content Development
–Develop guest blog post on the web series landscape
○ Add clarity to conversation;
–Research best venue for guest blog post(s)
○ Pot magazine blog (High Times)
○ Web series blog/publication
Updates on Devolve will be coming. Visit the Facebook page, here.