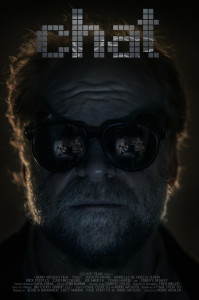 It's been nearly two years since I first told you folks how CHAT, the micro-budget film I wrote and produced with my partner Boris Wexler, came about. It's actually been almost three years since the first idea for a script. Then came months of outlining, another 10 months to write four drafts, then months of the Kickstarter campaign and private investment raising to get us funded.
We went into pre-production in April/May of 2012, an 18-day shoot in Chicago, all Chicago crew and actors. I wrote a series of posts about life on set which can be found on this site, the trials and tribulations that most D.I.Y. filmmakers know like old friends. We finished filming in early May with only one short day of pickup photography and well within budget.
Post-production commenced. The many months of editing, epic time-code notes, opinions from our "inner circle", Boris looking to cut and tighten, our production house doing the ADR and foley work, color correction and score. The film was "ready" for a cast and crew screening early this summer. I swear to Christ I'm not patting myself on the back when I tell you that night when nearly 200 folks got out of their seats for a standing ovation for CHAT–it felt pretty damn good.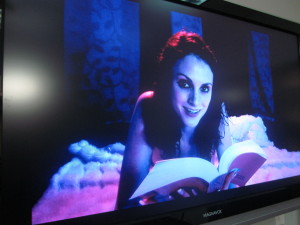 So, where are we at now with CHAT?
It's never easy for a micro-budget movie like ours, a movie without name actors, with little or no cash for promotional material, minimal cash for festival submissions, in a crowded field absolutely gutted with "product"–because, you see, now that everyone can get hold of a Canon 5D and make a micro-budget film–everyone is. 12,000+ submissions to Sundance last year.
Boris and I, along with producer Lucy Manda, then embarked on as comprehensive a strategy as we could for the cash available to us. Lucy put together a definitive monthly list of A, B, and C-level film fests. Through another generous donation by our lovely and generous investor January Stern and her investment group, we raised a few thousand to pay for festival submissions. Lucy would send out each month to the short list we picked and because we've only recently started I can't give you a comprehensive scorecard so far–too early to tell. I can say the movie will screen locally in Aurora, Illinois on May 3, at 1:30 at the Illinois International Film Festival.
Also, I can tell you about though was my experience with traditional distributors. Back in the day of my first movie JANE DOE, if someone had told me I'd be making cold calls to tired-eyed distributors to sell my movie–well, let's call it unlikely in the extreme. NO CLUE. But here I was just a month ago making cold calls to a Distributor list Boris and Lucy put together.
Now I had experience with what it's like to try to cold call agents with a screenplay. The results were U G L Y. You'd have to be smoking some 12th generation purple indica to think that agents want to hear your cold telephone elevator pitch, let alone spend two full hours of their weekend reading your Final Draft opus. So, I fully expected the same reception with my clumsy telephone pitch of CHAT.
Guess what? Not a single distributor told me flat out no. I was shocked, but I shouldn't have been. We had a movie in hand. It's a very different matter to ask someone to watch a two-minute trailer and read a logline/synopsis. About 20 of them did. About two were interested immediately.
We went with neither of them.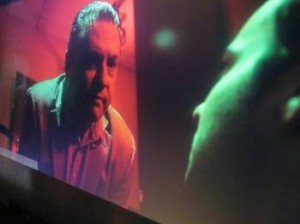 Remember the four golden words: WHO DO YOU KNOW?
A friend of a friend got hold of the folks at Showcase Entertainment. The watching of the movie might have started as a favor but, in what was probably a great surprise for them, they dug the movie.
And offered us WORLDWIDE distribution!
Here's the web page for Showcase Entertainment, and the Chat page.
CHAT is also featured in a book Boris and I have coming out called The D.I.Y. Filmmaker. It's being pre-sold at Amazon now and is due out in late May/June.
So what's all this mean? It means they pitched us at American Film Market. Are pitching us at various cable outlets and foreign territories. Digital will come later, hopefully connecting with Netflix, Hulu, Vudu, iTunes and the other usual suspects. This exposure, plus selling a few foreign territories, will, hopefully, move us toward paying back investors.  We shall see what transpires. I'll keep you abreast…
So with that, Good Script Gods Readers, here's the latest trailer for CHAT.
Wish us well, mockingbird.