Good Reader, I have an apology. I write endlessly about Chat, the damn micro-budget I made last year, because I'm a multitasker. Yeah, I have to fill space at Script Gods. But the good folks at Self-Counsel Press agreed to publish my micro-budget filmmaking book Surviving Outside Hollywood (Life Lessons For The D.I.Y. Filmmaker) so a lot of these posts will go there too. Apologies for the navel gazing…
I'm hoping today's post helps your own process of writing the first 5 pages of your screenplay. Whether micro-budget or a Studio movie, the first 5 is valuable real estate. You've got to nail it or risk losing the reader/audience.
Today we'll look at the first draft of my script for Chat, and then compare it against what actually became the movie.
Remember that famous expression about movie (I believe attributed to Fellini?) There is the movie you write, the movie you make, and the movie you edit and that the public comes to know as THE movie. But the script you write and film you end up with can be very different sometimes.
All scripts should do four things these first 5 pages: 1-Establish the POV character (protagonist) 2-Establish the Tone 3-Establish the World 4-Establish the beginnings of Conflict.
So, here are the first five pages of CHAT, and the changes that happened(in bold):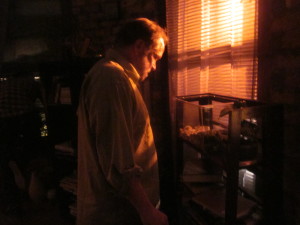 FADE IN:
INT. CHAT OFFICE HALLWAY- NIGHT (PRESENT DAY)
Floating, down a fluorescent nightmare. A long, narrow corridor leads toward a bathroom door. The door opens wide…WHITE OUT.
This was filmed and presented at the top as is up to the rough cut. The audience feedback we got showed confusion on this opening so it was swapped out for a shot of Falcon, our protagonist, in the same chat office hallway right at the top. Less confusing and more evocative. It also sets up the creepy tone we want, the lead character, and the world in a single 10 second shot.

This is also the first of MANY times I disagreed with the director Boris Wexler. I came up with a new opening that reached more into Falcon's mind, that was not as literal, that flashed images at the audience and took a piece of a monologue from a future scene and put it right here, right off the bat. Boris preferred his new open, and with directorial "discretion" and diplomatic balm, basically told me we were doing it his way.
INT. FALCON'S DARK ROOM- DAYs
FALCON, 45, eyes open and ringed red, disturbingly fucked up.Dimmer switch at a 5 watt flicker. Falcon lays back and listens to a WOMAN'S VOICE.
WOMAN'S VOICE
Always the falling, bottomless, silent body, spirit at dawn, dawn on nightmare.
This was filmed as is, but moved.
INT. FALCON'S APARTMENT- DAY
Dim world. Fifteen watt lightbulbs, pitched blue. Well-kept home of a scientist– doctorate diploma, honors and awards framed in glass, library of science manuals and biochemistry books– genius stuff.
RAPID SHOTS – FALCON
Peeking out from blinds, drawing them closed fast.
Expertly inserting a set of contacts. The tray with six other pairs of contacts from strong to extreme light protection.Falcon in the medicine cabinet, pops open a large 500 count bottle of Xanax. Knocking the Xanax down with one- two- three cups of espresso. Frail, hair uncut or combed, Falcon nervously dresses in a suit and tie, readying himself.
This was also filmed as is. It establishes Falcon as a scientist, but also as a man with suffers from photophobia, a disease of the cornea. This is a man who can't handle light, and shuts himself in as a result.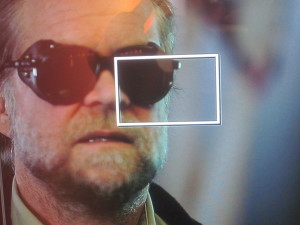 EXT. FALCON'S APARTMENT- LATER
Falcon emerges, holding a large wreath, staring up at the sun. He places powerful protective sunglasses over the contacts, stepping into light.
EXT. STREET- CONTINUOUS
Alien landscape, cars and people move very fast, dizzying. A crying child, a jackhammer at a construction site, the screaming of an EMT van passing with cherry lights blazing. All these exaggerated, hypersensitive for Falcon, who walks with wreath toward…
EXT. CEMETERY- LATER
Falcon bends, laying the wreath again a newly dug stone. He stands back to observe the wreath, the stone, the empty cemetery.
EXT. CHAT OFFICE BUILDING- LATER
Falcon looks up at a piece of paper with scrawled writing, then at a nondescript commercial building. He moves inside.
INT. ELEVATOR- CONTINUOUS
Yellow floor numbers pass, reflecting off Falcon's sunglasses, an inexorable rise.
All these scene were shot as is and open the movie exactly as described. This takes us through about the first 2 minutes of the movie. Boris felt with good pace. For me, I felt, and still feel, we could have trimmed time off here. But so far, no major changes.
INT. CHAT OFFICES- FRONT DESK- CONTINUOUS
A RECEPTIONIST on the phone, Falcon stands before her.
RECEPTIONIST
He's the father. Needs to see her. That's what he says.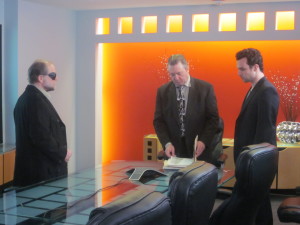 INT. SYD'S OFFICE- CONTINUOUS
Falcon timidly, stranger in a strange land, stands before SYD, 48, a toad. As Syd searches the messy office for paperwork. Falcon scans the room…
A video from a liposuction clinic plays on Syd's computer.
Because we shot at Boris' Board of Trade offices, this scene was moved from Syd's office to the Conference Room. More spectacular visuals than a simple office scene, really opened things up. This is a high-profile, upscale establishment, counter to the seedy backroom you'd expect of a adult chat cam operation.
Framed lewd posters advertise the Adult webcam operation behind the mahogany desk and office chair.
Looking over paperwork from a file cabinet…
SYD
Like I said, she was only here a week.
Syd hands the application over to the strange, sunglasses-protected Falcon.
SYD
I can see how working a job like this would be concerning for a father.
Maybe their eyes meet; Syd can't penetrate the sunglasses.
Scanning the paperwork…
FALCON
Do you remember her?
SYD
Remember her?
FALCON
Her face.
SYD
Yeah. Bright girl. Liked books, right?
Falcon looks up from the application.
SYD
Didn't leave a forwarding address. They never do.
FALCON
Did she leave anything behind?
SYD
She made some VOD's but I don't think you'd want…
A look to Falcon is downright spooky.
SYD
Why would you want those?
FALCON
Maybe I should call the police.
SYD
No…that's all right.
(the toad smiles)
Give me a minute.
Very important establishing scene. Reader/audience has now been introduced to Falcon as a scientist and father who is seeking out his daughter, who came to work here at this chat operation and was not seen again. Establish Syd as the pockmarked possible villan. Set the movie genre as drama. Set up the beginnings of conflict– where did his daughter go?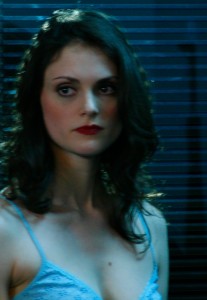 EXT. GEOFFREY'S OFFICE- CONTINUOUS
Syd inside with GEOFFREY, 20's, Ivy-League sharp, handsome. Syd points to Falcon through window blinds. Falcon unable to hear what they're saying, until Syd emerges with Geoffrey.
SYD
This is our studio designer, Geoffrey Davis.
Shaking hands, noting Falcon's agitation…
FALCON
Is there something you remember?
GEOFFREY
I wish there was. In this business girls come and go very quickly. Some don't even finish their first day.
Falcon scans Geoffrey's office…Ivy-League diploma, computer manuals, Silicon Valley literature, and super-powerful computer.
GEOFFREY
I remember your daughter as very intelligent. That's a commodity in short supply around here, right Syd?
SYD
Absolutely.
Never shot in Geoffrey's office. Not needed. Moved Geoffrey into the Conference room with them.
INT. CHAT OFFICE HALLWAY- CONTINUOUS
Falcon walks the fluorescent corridor. Still wearing protective sunglasses, he drifts past door after door. Partial glimpses inside… CHAT MODELS in various states of undress, typing on keyboards or chatting into computer cameras, office cubicles made to look like bedrooms. This is an Adult Chat studio complex and business is very good indeed. Falcon's sunglasses hide his eyes, but the fluorescence still brings pain.
GEOFFREY
We take up two floors of this building. Got a team in charge of recruiting, one for managing, another for web design and development.
FALCON
Why don't they work at home?
GEOFFREY
Most do. The top sites have over 1,000 cam models at any hour of the day. Eastern Europe, Asia, South America. We're actually small fish, only 20 studio performers live at this location. One-stop shop, we provide the room, camera, lighting.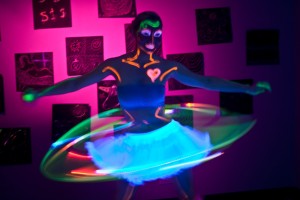 Even though we hint at it, you never explicitly SEE that we're in a XXX adult cam operation…until here. Our editor and Boris did a great job just punching the audience in the face with images from a sleazy world, a backstage look. Boris also did a nice job with the FALCON POV stuff, to put us right in his head as he walks by room after room of half-dressed women, imagining his own daughter working here.
EXT. ANNIE'S CHAT ROOM- CONTINUOUS
Passing a door, Falcon peeks inside, Geoffrey too.
GEOFFREY
That's Annie. She knew your daughter.
Geoffrey looks back to Syd, who doesn't return the look.
Falcon removes his sunglasses to see a sexy blonde, cutting the air in a pale, pink mini-dress– ANNIE, 27, live online, doing a show. On a wall behind her, a latex, hooded BDSM catsuit, whip, and restraint devices. Annie sees Geoffrey and waves at him. He moves inside to hug her. Syd's sneer relents only when Falcon notices him.
A short but important scene, as Annie is the co-protagonist of the film. This is the first time Falcon sets eyes on her.
INT. FALCON'S APARTMENT- NIGHT
Chat cam installed, computer contrast turned way down, Falcon wears sunglasses as he ties into the chat website.
Scanning through webcam listings of women, Falcon stops the browser on the thumbnail of a TATTOOED CAM MODEL, clicking the button for PRIVATE CHAT.
Falcon jumps when, instantly, she appears before him, tattooed along every inch of her body….
Stranger in a strange land, Falcon unaware of such worlds, plugs into the cybersex world for the first time…
We actually shifted this scene down to AFTER he screens the videos of his daughter, and weeps on seeing them.
Thus, we accomplish(I hope!) the four keys: 1-POV CHARACTER established 2-TONE established 3-WORLD established 4-CONFLICT established.
Good Reader, go and do likewise!