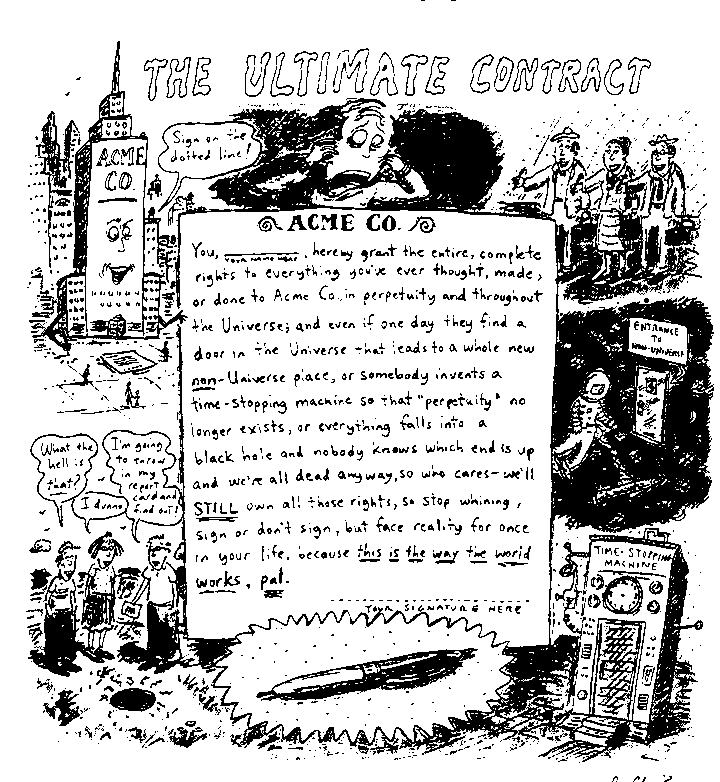 As a teacher, the most valuable thing I have to offer any student is real world knowledge. In the world of screenwriting gurus it's quite a more dangerous place than you'd imagine, insisting that the guy giving you notes has actually, you know, written a fucking movie. Lots and lots of pretenders out there with beautiful websites. They might even destroy me in this argument. They might point to Tony LaRussa and point out that the dude is one of the top baseball managers of all time, but was a lousy ballplayer. Just how good a manager? To quote Wikipedia: "As a manager, La Russa guided his teams to three World Series titles, six league championships and twelve division titles in 33 seasons. He ranks third all-time in major league wins by a manager, behind Connie Mack and John McGraw." 
That's pretty impressive, so maybe you don't have to have lived it to teach it. But if I'm building a house–and this is just ME–I want the dude who has actually BUILT houses to teach me. Not the guy who has TALKED about building houses. The kids at Columbia seem to lock in when you start discussing stuff out of the book and into the world, stuff that's actually happening now.
All this as prologue to today's discussion on contracts.  I've signed quite a few of them through the years and I wanted to share a couple with you here at Script Gods. This first one was for my most recent film, CHAT. It was written up by my friend and former student, director/producer Boris Wexler. Boris is one of the best producers I've known and knows about 10X more on this stuff than I do, but I wanted to give you a few bullet points to check out in case, Good Reader, you find yourself in a situation where someone is handing you a contact.
And what's the first thing you do in that case? Say it with me: Hire an Entertainment Lawyer. If he/she are any good, they steer you past most of the dangerous fine print, but you still need to know this stuff on your own. Take the business side seriously and the sharks won't be able to take your dough, straight-up.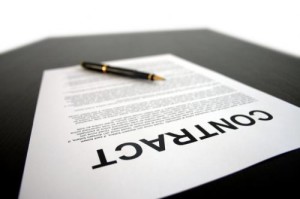 So, here's the contract I signed (that Boris drew up) for my Writer Services on CHAT:
Re: Letter Agreement for Production of the Film CHAT
Dear [name],
This letter agreement ("Agreement") shall serve to memorialize the terms and conditions governing the agreement among Boris Wexler ("Wexler") and Paul Peditto ("Peditto") to produce a film tentatively entitled Private Session (the "Film") based upon the story created by Peditto and Wexler and the script written by Peditto (the "Script"). Pursuant to this agreement, the parties propose to assume the following roles: Peditto as Writer/possible Producer, Wexler as Producer and Director. Define the roles right off. Boris did extensive story work at the idea stage so a story credit was earned. I ended up working as producer on everything from casting to fundraising and earned that damn credit, oh yeah!

1. Ownership. Peditto is the author of the Script and represents and warrants that he has registered the copyright in the Script with the United States Copyright Office. Peditto and Wexler, (collectively, the "Producers") shall use their best efforts to secure financing for production of the Film with a Budget raised from third-party investors ("Investors"). Upon receipt of funds equaling at least $25,000.00, the Producers shall organize an Illinois Limited Liability Company, name t/b/d,(the "Company") for the purposes of the owning and exploiting the rights to the Film. In the event that the final production Budget is less than $25,000, the Producers shall organize the Company upon completion of principal photography and prior to entering sale and distribution efforts. Gotta form the LLC to limit personal liability if you're making your micro-budget. You, as writer, won't be worrying about this one.

1.1 The Producers mutually acknowledge and agree that upon organization of the Company, the Investors shall own an amount no greater than fifty percent (50%) of the units of membership interest in the Company ("Investor Shares") on a pro rata basis represented as a fraction, the numerator of which shall be the cash sum contribution of an individual investor and denominator of which shall be the total cash received from all investors. The final percentage allocated to Investor Shares shall be determined upon organization of the Company, depending on the total amount raised. The remaining units of membership interest in Company ("Producer Shares") shall be allocated between the Producers and various crew members at the discretion of the Producers. Here's a big one, easily misunderstood. The profits will be divided equally between the Producers and Investors– 50% each. Of the producer's 50%, key producers and key crew, en lieu of upfront fees, will be given a % for their contributions. This percentage is high-guarded and truly has to be earned. If you're doing the divvying up, give up these percentages only as a last resort. The goal, as in all things Americana, is to keep the maximum percentage for YOURSELF.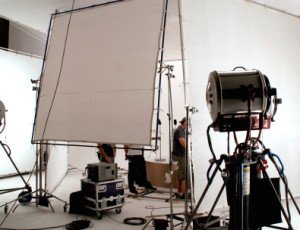 1.2 Upon organization of the Company or beginning of principal photography, whichever occurs first, Peditto shall assign all right, title and interest in and to the Script to the Company in consideration of payment of the sum of One Dollar ($1.00) to Peditto. In the event that the parties fail to execute appropriate documents memorializing the required assignment within thirty (30) days after the date of the Company's organization or start of principal photography, Peditto hereby agrees that all of Peditto's right, title and interest in and to the Script shall be automatically assigned to Company and that Peditto shall further assist Company, at Company's expense, to further evidence, record and perfect such assignments, and to perfect, obtain, maintain, enforce, and defend any rights assigned. Peditto hereby irrevocably designates and appoints Company as his agent and attorney-in-fact to act for and on his behalf to execute and file any document and to do all other lawfully permitted acts to further the foregoing with the same legal force and effect as if executed by Peditto.
Another small matter often misunderstood. As the writer, you're signing over copyright on the property (script) to the makers of the movie. Chain-of-title. You basically become a work-for-hire worker. Here, for the grand total of ONE dollar! Why would I do that? Because I wanted to see the movie made. Because I know the writer in most micro-budget productions isn't getting a penny up front.

1.3 Reversion. In the event that the Producers are unsuccessful in producing the Film as contemplated by this Agreement within two (2) years from the date of signature of this Agreement, then on such date, all right, title and interest in and to the Script shall automatically revert back to Peditto without requirement of notice or any further action on the part of Peditto. If the movie doesn't happen, script rights revert back to me in two years.

2. Payment Preference. Upon successful commercialization of the Film (whether through theatrical release, third-party distribution, DVD, On-Demand, pay-per-view, cable television, broadcast television, satellite or otherwise, throughout the universe), Producers shall pay to Investors from the Net Profits, on a pro rata basis, a sum equal to one hundred and twenty percent (120%) of the principal amount of an Investor's investment, prior to any distribution to Producers. You want your investors to get paid back with profit. The sooner they're paid back, the sooner they can invest in your next movie!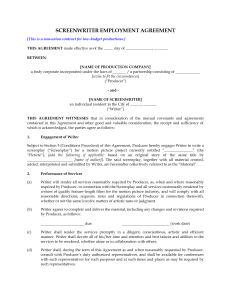 2.1 For purposes of this Agreement, "Net Profits" shall mean the gross receipts from the commercial exploitation of the Film, less the direct costs of manufacturing, reproducing and distributing the Film, including without limitation, deferred crew compensation, costs of mastering, packaging (including container and printing costs), freight, postage, advertising, promotional and publicity costs, distribution fees, legal and accounting fees, taxes, and any other usual and customary costs (but not Company overhead) attributable to the manufacturing and distribution of films. Creating accounting is likely to be much more dicey on a Studio or Indie film where more money is coming in. Net profits are elusive indeed for the micro-budget filmmaker, but that's not GOAL #1 of making the damn movie, is it? Still, it's good to know where profits might come in, through any or all of these sources,

2.2 Once each Investor has received one hundred and twenty percent (120%) of the principal amount of its investment, all deferred compensation agreed upon by the Producers with cast and crew members shall be paid in full. After all such deferred compensation has been paid in full, Investors and Producers shall split the Net Profits proportionally to the final percentage of Investor Shares and Producer Shares. The percentage allocated to Producers (Producers' Share) will be allocated as follows: fifteen percent (15%) of the Producers' Share to Peditto, fifty percent (50%) of the Producers' Share to Wexler, and thirty five percent (35%) of the Producers' Share distributed amongst other crew members, at the discretion of the Producers. In the event that Peditto fulfills the conditions listed in section 3.2 to receive a "Produced by" credit, Peditto shall then be eligible to receive an additional percentage of the Producers' Share equal to the percentage allocated to other individuals with same credit. Here's the biggest paragraph for Peditto–yay! It says that after the investors are paid back to the tune of 120%, deferred compensation for crew shall be paid in full. This includes a very nice 15% of Producer Profits paid to your favorite California Golden Seal–one Paul Peditto. Boris made me jump hoops for this, wanting to give me 10%. Savage negotiator that I am, I insisted on 15%, never mind that his total of profit was, ah, 35%. All this, of course, assuming, there WOULD be some sort of profit!

3. Attribution. The parties mutually acknowledge and agree that "credits" shall be attributed as follows:
3.1 Wexler. "Directed by Boris Wexler" onscreen, single card, last head credit, and on all paid advertisements as controlled by Producers in their sole and absolute discretion. Wexler shall also receive an "Original Story by" credit shared with Peditto, and a "Produced by" credit. Credit roll, with movie responsibilities as decided in the first paragraph. These will go on IMDB so make sure these are clear as possible.
3.2 Peditto. "Written by Paul Peditto" credit, on screen, single card, second to last head credit. "Original Story by" credit shared with Wexler. Peditto may also receive a shared "Produced by" credit if he executes the tasks generally agreed to be the responsibility of a producer in the film industry throughout the production of the Film. Such tasks may include fundraising a significant portion of the final production budget or contributing actively to the operational organization of the production. Peditto shall only receive such credit upon the approval of Wexler Much as I like and respect Boris, much as I'm happy to share that Story By credit, the damn written by card will be mine and mine alone! I did earn that producer credit but it's got to be written into your contract, Good Reader, or your efforts might get lost in the shuffle.
4. Right of First Refusal.
4.1 For a period of two (2) years from the signature of this agreement, Producers agree that Wexler shall have a right of first refusal to act as Director of the Film, and Peditto shall not accept any financing offer or written and binding commitment to purchase the script or produce the film without consent from Wexler. Wexler shall provide notice of his exercise of such right within sixty (60) days of the date of his receipt of notice of the commitment, or such right shall be waived and forfeit. This repeats the fact that I'm giving up rights to the screenplay to Boris and the LLC for a period of two years. Boris has right of first refusal should another producer come in and want to make the movie himself. He has a 60-day consent period.
4.2 Producers agree that Peditto shall have a right of first refusal to perform any rewrites or changes to the script, even after the assignment referred to in section 1.2 takes place. However in the event that Wexler deems a rewrite or changes necessary during pre production or principal photography and Peditto is unable to make himself available for such rewrite or changes in a timely manner, Peditto shall waive his right of first refusal and allow Wexler to hire another writer of his choice. Oh yeah, this one! I demanded full creative control at Script Level. Boris said OK, but once we get into pre-production and actual production, if changes need to be made, HE then has control and can make me do the rewrites, or find another writer to do so. This one would be dicey for the writer if the guy he was signing the contract with WASN'T his partner of six years. I knew, ultimately, that Boris as director would have creative control. By signing this contract I agreed to that. If I didn't agree to that, Boris would have no motivation to bring in the money he did, nor even call himself director. It simply a given the writer cedes power at some point. I actually considered this a victory, to not have to write something false to me, at least at script stage. It turned out to be a complete non-issue. The script was outlined and worked so hard at script stage that very few production-level changes needed to be made.
5. Use of Name & Likeness. Each party to this Agreement hereby consents and agrees that the Producers and Company shall have the right, but not the obligation, to use the name, voice, and/or likeness of Peditto and Wexler in connection with any use, advertising or other exploitation of the Film. We both agree to promote this movie in any way possible. This paragraph doesn't even begin to hint at the man hours THAT aspect– distribution– will take.
6. Assignment. No party may assign any portion of this Agreement, voluntarily or involuntarily, including without limitation by operation of law or by merger in which such party does not survive. Any attempt to do so shall be null and void. No person or entity not a party hereto shall have any interest herein or be deemed a third party beneficiary hereof, and nothing contained herein shall be construed to create any rights enforceable by any other person or third party. I have no clue what this paragraph means! C'mon, would a guru tell you that?! Just seeing if you're still awake. And, following, a bunch of other stuff I don't see my name in….
7. Binding Agreement. This Agreement shall be binding upon and inure to the benefit of, and is enforceable by, the Parties and their respective legatees, distributees, legal representatives, successors and permitted assigns.
8. Severability. Any provision of this Agreement held or determined by a court (or other legal authority) of competent jurisdiction to be illegal, invalid, or unenforceable in any jurisdiction shall be deemed separate, distinct and independent, and shall be ineffective to the extent of such holding or determination without (i) invalidating the remaining provisions of this Agreement in that jurisdiction or (ii) affecting the legality, validity or enforceability of such provision in any other jurisdiction.
9. Notices. Any notice required or permitted to be given hereunder shall be (a) in writing, (b) effective on the first business day following the date of receipt, and (c) delivered by one of the following means: (i) by personal delivery; (ii) by prepaid, overnight package delivery or courier service; or (iii) by the United States Postal Service, first class, certified mail, return receipt requested, postage prepaid. All notices given under this Agreement shall be addressed to the addresses stated at the end of this Agreement, or to new or additional addresses as the parties may be advised in writing.
10. Governing Law. This Agreement, its validity, its interpretation, and performance shall be governed exclusively by the laws of the State of Illinois, as if this Agreement was both wholly executed and wholly to be performed in said State of Illinois, without reference to the principles of conflicts or choice of laws. All claims or controversies arising out of this Agreement that may be litigated shall be litigated in Illinois. Litigation to resolve any such claim or controversy must be commenced and pursued only in a court of competent jurisdiction located in the State of Illinois, and each of the Parties hereby consents to the personal jurisdiction over it by such court, submits to such court's jurisdiction, and consents to venue therein. Further, if the claim or controversy satisfies the requirements for federal jurisdiction, any such litigation must be commenced in the United States District Court for the Northern District of Illinois. 11. Entire Agreement. The parties agree that this Agreement sets forth the entire agreement and understanding between them on the subject matter hereof, merges all prior discussions between them, and neither party shall be bound by any conditions, definitions, warranties, waivers, releases or representations (either express or implied) with respect to the subject matter of this Agreement, other than as expressly provided for herein.
Please indicate your acceptance of the obligations contained in this letter by signing and dating your signature in the appropriate space below and retuning a fully-executed copy of this letter to me. I look forward to your prompt and favorable response.
Very truly yours,
____________________________
[name]
[title]
When it gets to this stage for you, Good Reader, bite your lip, pay the $, and hire the damn lawyer. It will save you $ in the back end. Meanwhile, hope this helps.